Tailored Transportation, Logistics Mobile App Development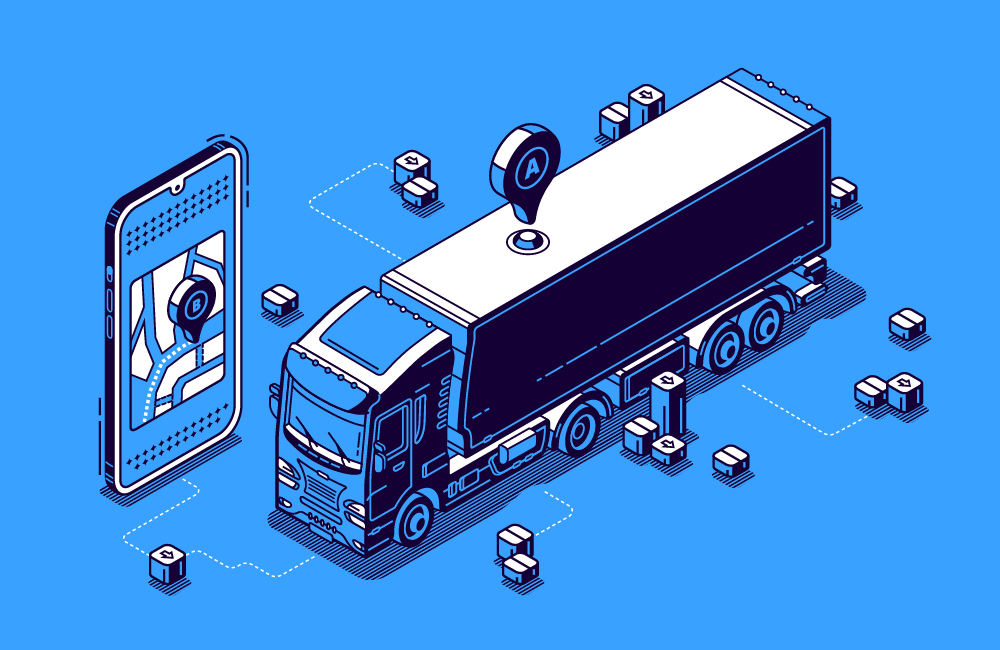 The reason why this sector is growing by leaps and bounds is mainly due to the development of new technologies and the globalization of companies. This growth requires the use of new techniques to manage the control of increasingly large and complex fleets: this is how transport logistics apps were born.
Logistics not only includes the transportation of goods and materials, but encompasses various processes, including warehousing, material handling, supply chain management, etc.
In order to streamline and improve operations and the changing needs of the environment, logistics needs technological support. This is where the development of transportation management apps for business comes in. Hyperlink InfoSystem can assist you in the development of an excellent logistics mobile app.
Types Of Transport Logistics Apps
Applications to manage the fleet. These applications can record all data related to fleet management.
On-demand applications. These applications are all the rage and companies can reap its benefits. When it comes to the logistics business, the on-demand logistics application can help deliver the products as per user requirements. It also helps you connect with the customer.
Warehouse applications. Warehouse management is also part of the logistics business. An application dedicated to storing and accessing warehouse data is still useful to keep the administration process simple and effective.
Tracking applications. These apps help track the location of your controller. You can get real-time updates on the delivery and route of your fleet.
You can also opt for a complex mobile transport application that includes all these features and that can meet all the needs of your logistics business.
Benefits Of Transportation Logistics Apps
Track your vehicle. Your logistics business requires precision to deliver goods on time. With the geolocation functionality, you can track the vehicle and by getting the real-time location of your vehicle and notify the customer instantly. In addition, you can track the vehicle through GPS technology and send help quickly in an emergency.
Manage your fleet. You must manage the fleet properly in order for your business to prosper. Additionally, efficient fleet management can enable you to improve productivity. The application stores data on all your vehicles and their routes. You can also track the location of drivers and manage the vehicle service schedule.
Avoid paperwork. The conventional business model for transportation and logistics businesses involves a great deal of paperwork. Thanks to a custom logistics app, you can get rid of paperwork and manage everything with ease in just a few clicks.
Get information in real time. The application can provide you and your customers with real-time information on various important activities, which are necessary for the growth of your business.
There is no margin for error. The custom logistics application provides automation in the business. Whether it's ERP or CRM, it's easy to take care of all aspects of your employees and customers. It can save your business from any costly mistakes.
Improve service. How about giving your customers real-time information about the delivery of goods and other aspects? A personalized and functional application can allow you to improve customer services by establishing a 24/7 connection.
The development cost of a transport logistics app can reach $7,000. In addition to paying for the development of the program, the maintenance of the application and the updates is something that must be taken into account.
Benefits Of Mobility In The Logistics Sector Through Mobile Applications
In the logistics sector, the use of technology is expanding beyond the simple use of sending production or tracking information, but is being used for specialized performance analytics and operations optimization.
Logistics apps developed by Hyperlink InfoSystem will allow you to control transactions and processes, collaboration and management of activities with internal and external partners, up to the tracking and control of shipments. The use of these tools will allow logistics professionals to improve the functionality, productivity and efficiency of their logistics chain regardless of their location or schedule.
This Is A Mobile World
With the democratization of data, the explosion of the smartphone market and the adaptation of our consumption habits to the digital age is now on the agenda.
Developing a mobile and tablet application allows you to meet the expectations of your customers by making yourself available, anywhere and at any time.
Some Advantages Of Mobile App Development
Better User Experience (UX)
With more than 5 billion smartphone users worldwide and a penetration rate of 67%, your customers are connecting daily and for longer periods from their mobile devices. You should take advantage of mobile app development to offer your users a better user experience to the optimizations offered by mobile applications in terms of ergonomics and loading times.
A New Communication Channel
While it is true that responsive websites could be described as the best alternative to mobile applications, the latter offer irreproachable ergonomics and ease of use. Indeed, the applications are adapted to each mobile operating system (iOS and Android), which facilitates access to information and thus makes this channel essential to any digital strategy.
Improve Customer Loyalty
The significant advantage of mobile applications lies in the possibility of sending notifications. Push notifications boost the attractiveness of the brand since they make it easier to inform, interact and communicate about their latest offers, but also to build customer loyalty in a "user friendly" environment.
Integrate A Multitude Of Features
Mobile applications offer new functions that can serve your digital strategy. Indeed, a mobile application can use the GPS, push notification, camera and so on.
"Above page is written for promotional purpose. We do not damage any copyright. We create apps from the scratch only."
Process We Follow
Being a Top development company, the proficient developers of our teams follow a well-organized development process that includes the following steps.
Requirement Gathering
We help clients to gather and analyze the requirements to understand the functionalities to be integrated into the app. This process enables us to draw a development plan and transform the clients' concepts into an efficient and functional app.



UI/UX Design
Our developers use effective UI trends to design apps that are not only pleasing to the eye but also intuitiveness and consistency. We make sure the applications not only satisfy the needs of our clients but are also simple and convenient for the end-users.
Prototype
We develop a preliminary visualization of how the mobile app would look and function. The prototype of the mobile application will give an idea of the look and feel of the app, and we test the users' reactions to the UI and UX designs.



Development
Our team of app developers has a thorough understanding of different programming languages, frameworks, third-party APIs, and more and will develop logic and codes to make your mobile application browsable for your target audience integrating various features and functionalities.



Quality Assurance
Our developers carefully test every app to ensure that they provide an excellent user experience and meet the requirements of our clients. Apps developed by our development team are bug-free because they go through a series of automated and manual testing before deployment.



Deployment
Our app developers follow strict guidelines and best practices of app stores to make your mobile application good to go. The app deployment phase will make sure your mobile applications can meet all the publishing criteria and reach your target audience.



Support Maintenance
All digital solutions need improvement. The deployment of an app is not the final stage. We work with our clients to offer post-deployment maintenance and support to make sure the mobile application always stays bug-free and trendy.



Get Free
Quote

Now !

Got An Idea? Leave A Message To Us And We Will Reach Out To You Soon.