Educational App Development Company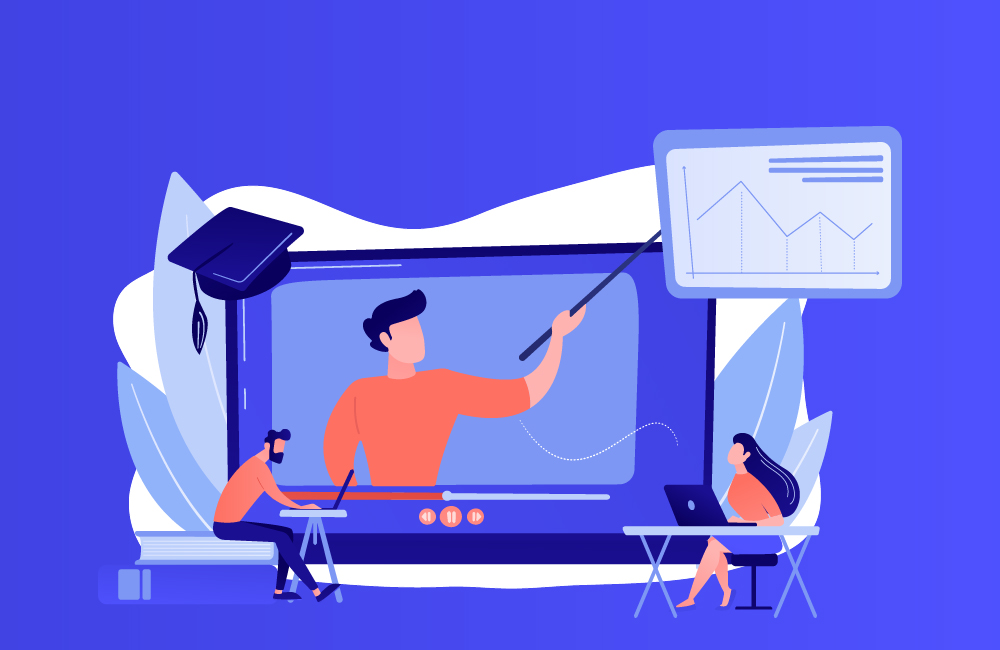 Educational mobile apps are all kinds of mobile apps linked with learning. Some are tools that complement the teaching work in the classroom; Others are intended to help users acquire a certain knowledge or competence, such as the ability to speak a language, or learn to program; others are created to provide school support, or as a replacement for private teachers; others are games with educational content, and other sophisticated tools that facilitate the completion of exercises and the learning of specific subjects. However, they all have something in common, and that is that regardless of the type of features they have, and the public for which they were created, they are helping hundreds of thousands of students learn on their mobile devices.
The Use Of Mobile Applications In The Education Sector
Nowadays, it is common to use the cell phone to consult almost everything: send messages, play games, locate a place, check the weather, read the news, etc., all thanks to what we know as mobile applications: technological and innovative tools, whose main essence lies in making people's lives easier.
Just as devices have marked a revolution in hardware, applications have done their thing in software. Due to this situation, mobile devices have now become the main point of access to the Internet, surpassing personal computers.
The use of the internet and cloud storage gives us the possibility of being able to interact in real time and obtain a large amount of information in a query, making it easier to share data and maintain communication. Now it is possible to have a whole world of tools and accessories in one device.
Currently, most sectors are looking for a way to innovate their processes and keep up with the technological trend. The education sector is turning to a scenario where it is no longer a luxury to have technological tools within its environment and community, it is now completely necessary.
The tools that educational institutions are looking for should offer better services through making processes more efficient, communicating with their community or disseminating knowledge in an appropriate way. The current demands of the sector are no longer simply about platforms that store data and desktop, seek interactivity and keep up with innovations.
The platforms currently in use in the education system are focused on school control, including some administrative functions, where they can obtain reports that help internal decision-making and data of interest to managers to improve their processes. Now the sector goes further and in this a new era it seeks to revolutionize services and contribute to improve not only internal control processes, but also to find a way to create communication channels within educational institutions, unify and communicate through an app to the different actors of the school: director, administrative, teacher, parent and student.
The incorporation of Information and Communication Technologies (ICT) in the field of education, has acquired increasing importance and evolution in recent years; After entertainment, education is the second sector with the highest number of mobile applications. Currently, we find applications for the education sector for: online education, learning, communication, control, etc. where those of learning are more likely, mainly languages. Those of control and communication, in 2018 stand out and bring with them fabulous things such as: visualizing the time of your child's entry to the institution in real time, measuring his progress in English and even knowing if he has behaved badly in the classroom.
The use of mobile applications in institutions allows direct communication and interaction with community actors, involving parents, tutors, teachers and students helps improve the quality of education.
Mobile applications, in addition to adding technological value to institutions, provide the opportunity to improve the conditions of the education services offered, streamline processes, generate community, increase interaction between participants and contribute in an impressive way to the environment by completely eliminating channels of print communication.
The use of mobile applications is a trend and educational institutions can exploit these tools to improve their services and keep up with innovation.
Hyperlink InfoSystem can significantly help with an excellent educational mobile app. The cost to develop a good educational app is between $10,000 and $15,000.
"Above page is written for promotional purpose. We do not damage any copyright. We create apps from the scratch only."
Process We Follow
Being a Top development company, the proficient developers of our teams follow a well-organized development process that includes the following steps.
Requirement Gathering
We help clients to gather and analyze the requirements to understand the functionalities to be integrated into the app. This process enables us to draw a development plan and transform the clients' concepts into an efficient and functional app.



UI/UX Design
Our developers use effective UI trends to design apps that are not only pleasing to the eye but also intuitiveness and consistency. We make sure the applications not only satisfy the needs of our clients but are also simple and convenient for the end-users.
Prototype
We develop a preliminary visualization of how the mobile app would look and function. The prototype of the mobile application will give an idea of the look and feel of the app, and we test the users' reactions to the UI and UX designs.



Development
Our team of app developers has a thorough understanding of different programming languages, frameworks, third-party APIs, and more and will develop logic and codes to make your mobile application browsable for your target audience integrating various features and functionalities.



Quality Assurance
Our developers carefully test every app to ensure that they provide an excellent user experience and meet the requirements of our clients. Apps developed by our development team are bug-free because they go through a series of automated and manual testing before deployment.



Deployment
Our app developers follow strict guidelines and best practices of app stores to make your mobile application good to go. The app deployment phase will make sure your mobile applications can meet all the publishing criteria and reach your target audience.



Support Maintenance
All digital solutions need improvement. The deployment of an app is not the final stage. We work with our clients to offer post-deployment maintenance and support to make sure the mobile application always stays bug-free and trendy.



Get Free
Quote

Now !

Got An Idea? Leave A Message To Us And We Will Reach Out To You Soon.