Grocery Delivery App Development Company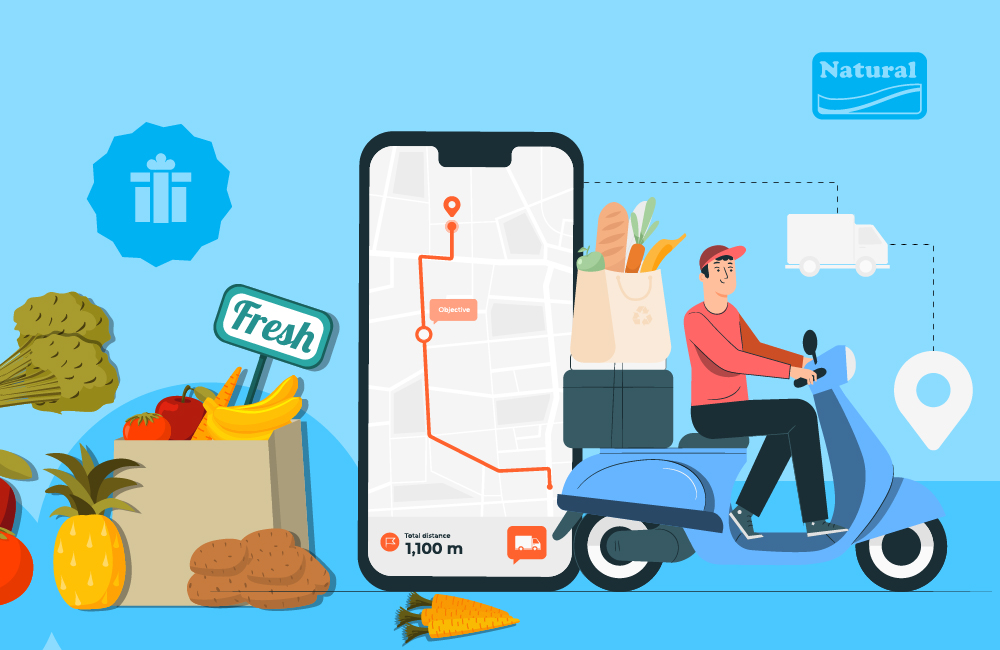 You may think you don't need a grocery delivery app, after all, your regular customers always go to your store. Or you may even have your own delivery service. However, grocery delivery apps will help you get even more customers and not just your regulars.
There is a great demand for grocery delivery at home, especially online. Many users of these applications are ready to try new stores. Take advantage of this to start increasing your customer base.
Consider The Development Of a Grocery Delivery App
If you are an entrepreneur, you must understand that the grocery delivery service is a fundamental factor for your business. Every business must know that adapting to the market will allow it to grow and develop.
Almost everything purchased today is over the Internet. It is therefore important that stores consider being included in applications that centralize groceries, evaluation by the users themselves and the ease of purchasing with a single click. Here are reasons why development the grocery delivery app is very important to grow:
• Sell More Regardless of The Capacity of The Premises
A good delivery service will allow you to increase your sales and improve your production without the need for a physical location (although having both is recommended) and will boost your business. You should offer portable groceries so that the delivery can be profitable, easy to prepare, and orders don't get delayed or take too long to deliver.
• An Effective System To Reduce Costs
Implementing the delivery service in your grocery store has another great advantage: it is not necessary to have a place or stall (with this, you can save on decoration, infrastructure, etc.)
Without these costs, you can improve the services you offer, lower their cost and thus expand your audience. A good grocery at a good price always attracts new customers. You have to ensure that the prices you offer in your delivery service are round numbers to avoid problems with the change at the time of delivery (it is much better if it is online payment).
• It Gives You The Opportunity To Add a New Sales Channel
This advantage is of great importance for businesses that are just starting out. In any business, the first thing is to get customers and make your products known. This can be difficult at first, but you have a new sales channel by including your grocery store within a delivery system.
Being part of a delivery service is a very powerful sales tool that will translate into more sales and extra benefits for your grocery store. In addition, you will be reaching the end customer, which allows you to identify them and effectively track how they react to your products while receiving their perceptions to improve what you offer.
• Save Time For Your Client
This advantage of delivery is highly valued by customers. In recent years, consumers have been changing their buying habits and it is important that you take this into account as a business. Your customers need to optimize their times and ordering grocery through delivery is one way to do it.
A grocery store that has a delivery service allows its consumers to save time, since they do not have to go to the place and wait for their order to be ready. In addition, the delivery system allows you to know when the order will arrive and thus be able to better plan. (Make sure that the delivery application you choose allows you to track the order and meets the approximate delivery times).
• Offer Availability of Your Product
Another great benefit that delivery generates in your business is that your product is always available. Being part of a delivery service, users have access to order your product at all times (even if you do not deliver at all times).
• It Allows You to Have a Control of Sales And Orders
Delivery service applications offer great sales control to businesses. The application allows you to more easily see how much is sold and what it costs. You will also be able to know your market by areas. You can also manage the number of orders you require per month and adjust the number of groceries distributed.
Some even allow you to monitor delivery drivers and provide shipping information to your customers at all times to solve problems and to have control of your delivery orders. You don't need to have a staff to handle the deliveries. And there are many more benefits you can take advantage of.
You can also develop a similar app for your business and Hyperlink InfoSystem is readily available to assist you throughout the process. The cost of the development of a grocery app is around $7000.
"Above page is written for promotional purpose. We do not damage any copyright. We create apps from the scratch only."
Process We Follow
Being a Top development company, the proficient developers of our teams follow a well-organized development process that includes the following steps.
Requirement Gathering
We help clients to gather and analyze the requirements to understand the functionalities to be integrated into the app. This process enables us to draw a development plan and transform the clients' concepts into an efficient and functional app.



UI/UX Design
Our developers use effective UI trends to design apps that are not only pleasing to the eye but also intuitiveness and consistency. We make sure the applications not only satisfy the needs of our clients but are also simple and convenient for the end-users.
Prototype
We develop a preliminary visualization of how the mobile app would look and function. The prototype of the mobile application will give an idea of the look and feel of the app, and we test the users' reactions to the UI and UX designs.



Development
Our team of app developers has a thorough understanding of different programming languages, frameworks, third-party APIs, and more and will develop logic and codes to make your mobile application browsable for your target audience integrating various features and functionalities.



Quality Assurance
Our developers carefully test every app to ensure that they provide an excellent user experience and meet the requirements of our clients. Apps developed by our development team are bug-free because they go through a series of automated and manual testing before deployment.



Deployment
Our app developers follow strict guidelines and best practices of app stores to make your mobile application good to go. The app deployment phase will make sure your mobile applications can meet all the publishing criteria and reach your target audience.



Support Maintenance
All digital solutions need improvement. The deployment of an app is not the final stage. We work with our clients to offer post-deployment maintenance and support to make sure the mobile application always stays bug-free and trendy.



Get Free
Quote

Now !

Got An Idea? Leave A Message To Us And We Will Reach Out To You Soon.