How Much Does A Healthcare App Cost By App Developers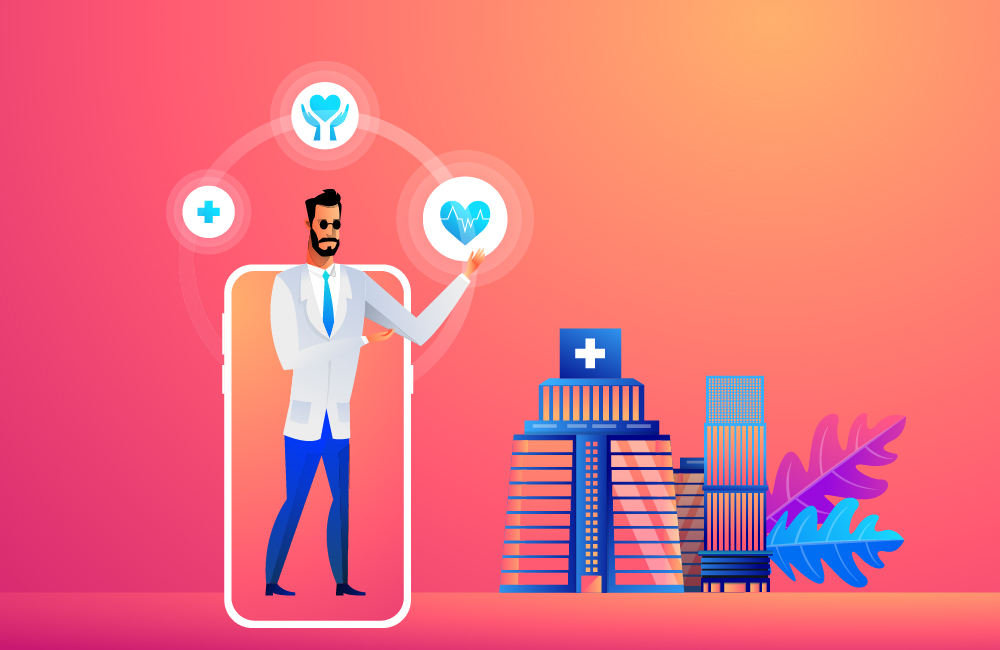 A mobile health application is a downloadable program that can be fully executed on a tablet or smartphone. We also talk about a mobile medical application. Most mobile health applications are aimed at the general public, i.e. at the patients directly and can have several objectives:
help a patient with a chronic disease to better manage their disease on a daily basis
improve compliance to treatment
facilitate the healthcare professional - patient relationship
Note that health applications can take several forms: some act as a source of information for the patient, others are capable of collecting medical data, analyzing them, giving advice and sending details to healthcare professionals. Others still work only in "pair" with a connected health object
Medical Applications: A Booming Phenomenon
From teleconsultation to connected medical devices, the different facets of e-health are booming. Health applications are no exception to the rule, especially at a time when most Internet users prefer their smartphone or tablet.
Health applications are so popular that we talk more and more mobile health. Many patients have already adopted them since we know that 20% of chronically ill patients use an application to better monitor their treatment. However, many healthcare professionals are still reluctant to use them. In particular, they express doubts about the reliability of the advice given and the security of their patients' data.
Are New Technologies Curative?
Mobile health (M-health) is a term designating the use of new mobile devices (smartphone, tablet, telephone) in the field of medicine and public health. M-health is part of this trend of connected objects between the web and oneself.
Applications available on our mobile devices allow us to monitor our state of health at any time without having to consult a doctor. Although this m-health phenomenon is not new, it seems that it is not done yet. M-health presents itself as a potential alternative to the problems linked to global demography.
Benefits of Healthcare Mobile App
Although it is true that the patient is the main beneficiary of the proliferation of apps in the field of health (since with an app, it is possible to promote self-care, improve adherence to treatments or instill new habits), healthcare professionals can also benefit greatly from the use of mobile applications in their day-to-day lives.
Benefits of Using Apps For Doctors
Speed ​ Diagnosis
Many of the apps aimed at healthcare professionals perform patient monitoring functions, controlling or analyzing certain indicators depending on the patient's pathology. This allows the professional to know the user's health status through the numerous information collected and quickly issue a diagnosis.
Improvement In The Effectiveness Of The Treatment
There are applications that, in addition to monitoring the patient's health status, allow us to observe the evolution of the same from the prescription of a certain treatment. In this way, the professional who has access to the app will be able to examine whether the patient is adequately complying with the treatment, or whether the treatment is really proving effective.
Improved Patient Supervision And Control
Through different applications, healthcare professionals can access relevant information about the patient such as their vital signs, test results or access notes made by other professionals regarding their clinical evolution.
Improved Decision Making
As a consequence of the above benefit, by having access to relevant patient information, health practitioners are able to make decisions in a faster and more informed way.
Improves the productivity and efficiency of healthcare professionals
As the use of apps allows healthcare professionals to quickly and easily access numerous information, as well as to know the patient's health status, it helps with optimization of times to offer an adequate diagnosis and treatment.
Benefits From The Patient's Point Of View
Time-Saving
Making an appointment on the phone usually takes a lot of time. If it is the only way to make an appointment, all patients must pick up the phone. Above all, this has one consequence: waiting loops!
Patients usually have to wait minutes to find out that the next appointment will only be available in a few weeks. This is not an uncommon case, especially with specialists. And who knows if and when he will have time in 6 weeks?
Another problem on the phone: Patients do not see all available appointments. Your employees can hardly suggest every date. It is not uncommon that another date would have been more suitable.
Flexibility
Patients are already sacrificing their time on the phone anyway. You also have to adhere to the opening times of your practice. You just can't call when it suits you best.
Most patients prefer making an appointment with a doctor if they really have the time. This is usually the case in the evening or on the weekend. So, when the practice is closed. The majority of these patients then look specifically online for appointments that are still available with doctors who offer online appointment arrangements.
Appointment Reminder Via Email or SMS
When booking an appointment online, patients must of course always leave a contact option. Usually this is an email address or a telephone number. This offers the patient the advantage that he can be reminded of the appointment. This can happen on the day before the appointment. You can also remind the patient if they have anything to bring with them, such as a vaccination card or a towel.
It is not only an additional service, but also facilitates communication and gives the patient an initial "feeling at welcome" in the hospital. After all, the patient knows that the doctor's office is awaiting his visit. This easy-to-implement service can also help build trust. A top mobile app development agency like Hyperlink Infosystem can assist you with a healthcare app. The average cost of such app is around $7000.
"Above page is written for promotional purpose. We do not damage any copyright. We create apps from the scratch only."
Process We Follow
Being a Top development company, the proficient developers of our teams follow a well-organized development process that includes the following steps.
Requirement Gathering
We help clients to gather and analyze the requirements to understand the functionalities to be integrated into the app. This process enables us to draw a development plan and transform the clients' concepts into an efficient and functional app.



UI/UX Design
Our developers use effective UI trends to design apps that are not only pleasing to the eye but also intuitiveness and consistency. We make sure the applications not only satisfy the needs of our clients but are also simple and convenient for the end-users.
Prototype
We develop a preliminary visualization of how the mobile app would look and function. The prototype of the mobile application will give an idea of the look and feel of the app, and we test the users' reactions to the UI and UX designs.



Development
Our team of app developers has a thorough understanding of different programming languages, frameworks, third-party APIs, and more and will develop logic and codes to make your mobile application browsable for your target audience integrating various features and functionalities.



Quality Assurance
Our developers carefully test every app to ensure that they provide an excellent user experience and meet the requirements of our clients. Apps developed by our development team are bug-free because they go through a series of automated and manual testing before deployment.



Deployment
Our app developers follow strict guidelines and best practices of app stores to make your mobile application good to go. The app deployment phase will make sure your mobile applications can meet all the publishing criteria and reach your target audience.



Support Maintenance
All digital solutions need improvement. The deployment of an app is not the final stage. We work with our clients to offer post-deployment maintenance and support to make sure the mobile application always stays bug-free and trendy.



Get Free
Quote

Now !

Got An Idea? Leave A Message To Us And We Will Reach Out To You Soon.