Hire Dedicated iOS App Developers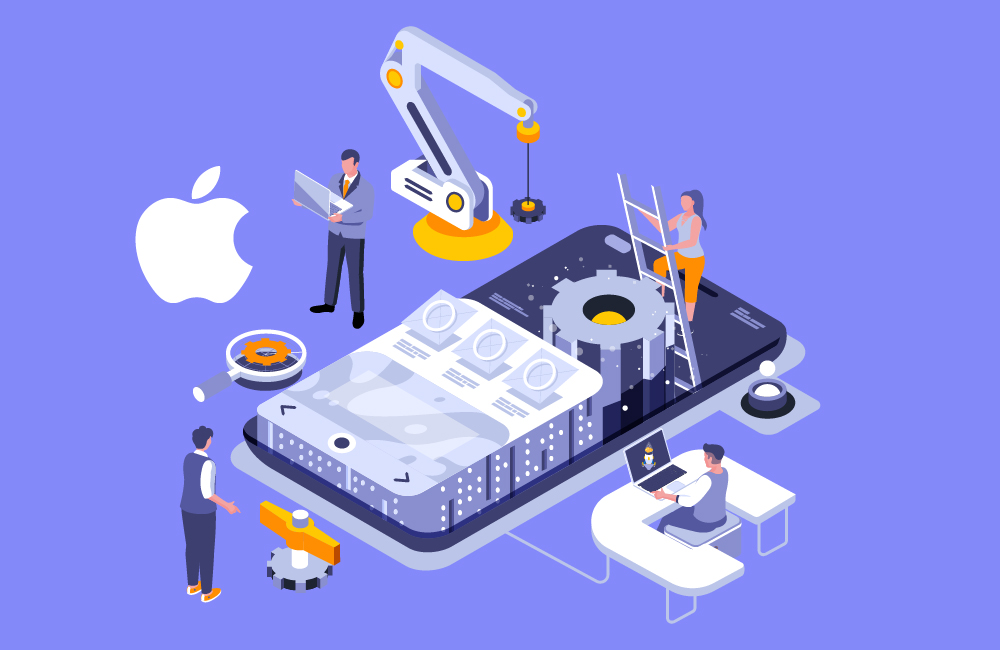 Hyperlink InfoSystem is one of the leading iOS app development agencies in the UK. We manage the users' data professionally following the guidelines of the different app platforms and the regulations of the government.
The Swift programming language is mainly used to develop an iOS app. This was published by Apple in 2014 and is available as open source. In 2018, Swift even replaced Objective-C, making it the most popular programming language.
CloudKit: The popular CloudKit framework gives developers access to important functions related to iCloud. The integrated functions allow authentication of the user, access to various databases and efficient storage access. By using the functions provided, users can use their data on multiple devices.
Ionic: Even if Ionic is a framework for hybrid apps, it is often used for functions under iOS. Interactive apps can be developed with the code collections available in the library. With the integrated connection to the app store, the applications can be sold via the official source of supply. When companies have an app developed, marketing often costs a lot of money.
Cocoa touch: Cocoa Touch offers many functions for accessing hardware sensors on iPhone and iPad. You can also use many of Apple's built-in services. Push notifications can be displayed or multitasking apps developed.
Features of Our Mobile App At Hyperlink InfoSystem
Registration, login, forgotten password: This functionality is one of the basics of the mobile application since the user must be registered to access the online service.
Profile management: This is the logical continuation of registration, all the more so in a post-GDPR era (general data protection regulation).
Geolocation: The smartphone being by definition an augmented mobile device, many services require the user's location.
Messaging: The discussion between users is a feature present in a lot of projects.
Payment: Payment is at the heart of the economic model of the mobile application. Depending on the type of activity, several payment methods are possible and compliant, ranging from the native payment system managed by Google and Apple to alternative payment solutions.
Why You Should Consider Mobile App Development
Almost Everyone Has a Smartphone
Almost everyone now has a smartphone that is used every day. Take advantage of this and relocate your company exactly where your potential customers are, which is now mainly on the smartphone. This is not a guess; it is a reality. If you now think that your website can also be accessed via smartphones and that is enough for you, you will be missing out on the various practical features and advantages of the app.
You Can Be Reached Directly
You can usually reach smartphone users much faster via an app than via other channels. You can place your offers or the products or services specifically on the displays of your potential and existing customers. This means that you can reach them anywhere and instantly since most people are always with the mobile phones. You simply improve the service for your customers with an app.
App is Easy To Use
An app is extremely easy to use. This is not surprising, because it was developed specifically for smartphones. The responsive websites are in no way comparable to an app. Various navigation models make the app very easy to use. Companies can be accessed quickly and easily on apps, because they can make functions and processes run more automatically and more easily. An app therefore also saves you and your customers a lot of time.
Customer Loyalty
More and more people only shop online with their smartphone. You can keep these customers if you offer them an app. This means that they can conveniently shop with you at any time from their mobile phone. Sales can be significantly increased by the app, so this is a common goal for companies.
Acquisition Of New Customers
Today's modern people like to use their smartphones to spontaneously look for companies or services that meet their needs. However, company websites are often not designed to be displayed on smartphones. This goes hand in hand with poor presentation of the website and long loading times, which leads to potential new customers churning away from the competition. With an app, you can reach new customers quickly and easily.
Branding
If the app icon with your company logo is on the display of many smartphones, the users will be reminded of your company every time they look at the phone. This enables your business to be firmly established in their consciousness. The app thus serves as a constant reminder, as it appears on the touchscreen every time.
"Above page is written for promotional purpose. We do not damage any copyright. We create apps from the scratch only."
Process We Follow
Being a Top development company, the proficient developers of our teams follow a well-organized development process that includes the following steps.
Requirement Gathering
We help clients to gather and analyze the requirements to understand the functionalities to be integrated into the app. This process enables us to draw a development plan and transform the clients' concepts into an efficient and functional app.



UI/UX Design
Our developers use effective UI trends to design apps that are not only pleasing to the eye but also intuitiveness and consistency. We make sure the applications not only satisfy the needs of our clients but are also simple and convenient for the end-users.
Prototype
We develop a preliminary visualization of how the mobile app would look and function. The prototype of the mobile application will give an idea of the look and feel of the app, and we test the users' reactions to the UI and UX designs.



Development
Our team of app developers has a thorough understanding of different programming languages, frameworks, third-party APIs, and more and will develop logic and codes to make your mobile application browsable for your target audience integrating various features and functionalities.



Quality Assurance
Our developers carefully test every app to ensure that they provide an excellent user experience and meet the requirements of our clients. Apps developed by our development team are bug-free because they go through a series of automated and manual testing before deployment.



Deployment
Our app developers follow strict guidelines and best practices of app stores to make your mobile application good to go. The app deployment phase will make sure your mobile applications can meet all the publishing criteria and reach your target audience.



Support Maintenance
All digital solutions need improvement. The deployment of an app is not the final stage. We work with our clients to offer post-deployment maintenance and support to make sure the mobile application always stays bug-free and trendy.



Get Free
Quote

Now !

Got An Idea? Leave A Message To Us And We Will Reach Out To You Soon.