Live Streaming App Development Company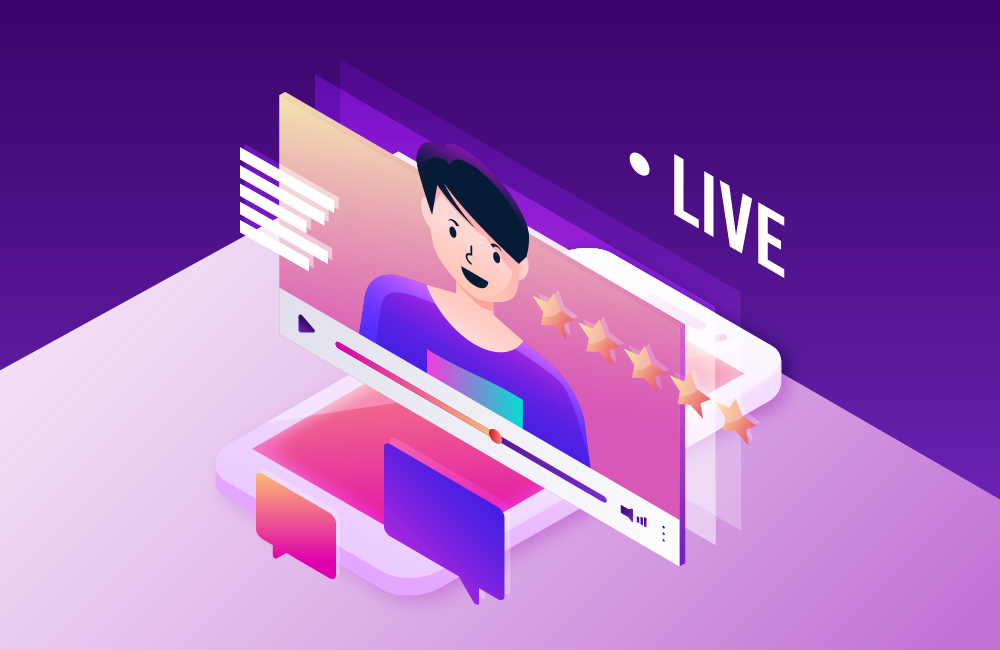 A video live stream has many advantages and is suitable for concerts, events, panel discussions or other events. The aim is always to make content accessible to an audience that cannot be physically on site.
Why Does Your Company Need a Live Video Stream?
Sometimes, you just can't be in a certain place at a certain time maybe because the concert has been fully booked or your schedule is very tight. The event may be enticing and the speakers may be the best in the world. Technology has provided a way to gain almost as much as those who were physically present in the event. The solution to the problem is live steam. You can watch the action live and in real time via social media such as Facebook or YouTube or on the screen at another location or on the company website.
Thanks to the technical possibilities and fast Internet, content can now be broadcast live one-to-one with several cameras, so that it can be cut between different perspectives. The integration of texts and graphics is also no problem.
This offers numerous opportunities for companies to involve their viewers who cannot be there at an event, presentation or lecture and thus generate a greater reach. The audience can be employees who cannot be present, potential customers or simply the general public.
For large events that are time-consuming and financially expensive, a live broadcast is therefore extremely worthwhile. But smaller events such as workshops, training courses or discussions can also be broadcast perfectly.
During the live stream, it is also possible to interact with the virtual audience, for example via votes or quiz games. This means that there is a person who monitors the stream, viewers write comments under the video. This means that the event can be influenced. Above all, this comment function is good for checking whether complex content can be understood by the audience or whether it needs to be explained again. This is particularly helpful for lectures and product presentations that are broadcast live.
Integration of Content
A mixture of live broadcast and pre-produced content such as videos is also possible. A person can be seen and their name and profession are displayed. It can also be more complex, such as graphics, images or video clips.
Implementation
When it comes to live streams, there is actually no limit. You can stream with one camera, two or ten. The more cameras there are, the more viewing angles the live video stream has. It should also be noted that more cameras mean more effort. Generally, there is an image mixer. It is the one that selects the cameras that are then switched live.
What Does a Video Live Stream Cost?
The question of what a video live stream costs depends on several factors. It is relevant how many days the deployment is planned, how many cameras (and therefore camera personnel) you book and how complex the stream is (only video transmission or numerous integrations of graphics). The personnel and the required technology are calculated on the basis of these factors.
Benefits Offered By Live Streaming On Social Networks
Immediacy
It offers the user the experience of seeing, speaking, participating and being the protagonist of your brand. The "magic of the live streaming" allows you to establish closer ties with your followers.
Trust
The live stream allows your user to see that there are human people behind your brand. It is easier to create close relationships between company and client through this type of live content in order to increase the memory of your brand in the minds of users.
Engagement
Most social networks give priority to brands or users who use the live stream over other publications. For this reason, live video is more effective to attract customers, increase your sales and save part of the advertising investment.
SEO Positioning
Making live videos greatly improves the positioning of your brand on your website, which generates a greater number of visits to your page or online store.
Knowledge of The Audience
The feedback that the live streaming allows helps businesses discover potential clients and obtain relevant information about their behavior, interests and opinions. It also enables the followers of a brand to come into contact and communicate with each other, thereby generating a virtual community.
Contents
With the live stream, quality content is created that is suitable for future use. Live video is currently the most consumed content, so you can get the most out of it, it generates interest, expectation and, simultaneously, you will be generating content.
Conversions
The fact of using live video, humanizes your brand much more and consequently we can get clients more effectively, since it is possible to clearly show the benefits of our products or services.
The development of live streaming app offers many benefits for your business. It can give you real advantages over your competitors and convert your potential clients into an existing client. Hyperlink InfoSystem can help you develop a live streaming mobile app. The development cost of a live streaming mobile app is between $7000 and $12,000.
"Above page is written for promotional purpose. We do not damage any copyright. We create apps from the scratch only."
Process We Follow
Being a Top development company, the proficient developers of our teams follow a well-organized development process that includes the following steps.
Requirement Gathering
We help clients to gather and analyze the requirements to understand the functionalities to be integrated into the app. This process enables us to draw a development plan and transform the clients' concepts into an efficient and functional app.



UI/UX Design
Our developers use effective UI trends to design apps that are not only pleasing to the eye but also intuitiveness and consistency. We make sure the applications not only satisfy the needs of our clients but are also simple and convenient for the end-users.
Prototype
We develop a preliminary visualization of how the mobile app would look and function. The prototype of the mobile application will give an idea of the look and feel of the app, and we test the users' reactions to the UI and UX designs.



Development
Our team of app developers has a thorough understanding of different programming languages, frameworks, third-party APIs, and more and will develop logic and codes to make your mobile application browsable for your target audience integrating various features and functionalities.



Quality Assurance
Our developers carefully test every app to ensure that they provide an excellent user experience and meet the requirements of our clients. Apps developed by our development team are bug-free because they go through a series of automated and manual testing before deployment.



Deployment
Our app developers follow strict guidelines and best practices of app stores to make your mobile application good to go. The app deployment phase will make sure your mobile applications can meet all the publishing criteria and reach your target audience.



Support Maintenance
All digital solutions need improvement. The deployment of an app is not the final stage. We work with our clients to offer post-deployment maintenance and support to make sure the mobile application always stays bug-free and trendy.



Get Free
Quote

Now !

Got An Idea? Leave A Message To Us And We Will Reach Out To You Soon.