Meal Planner App Development Company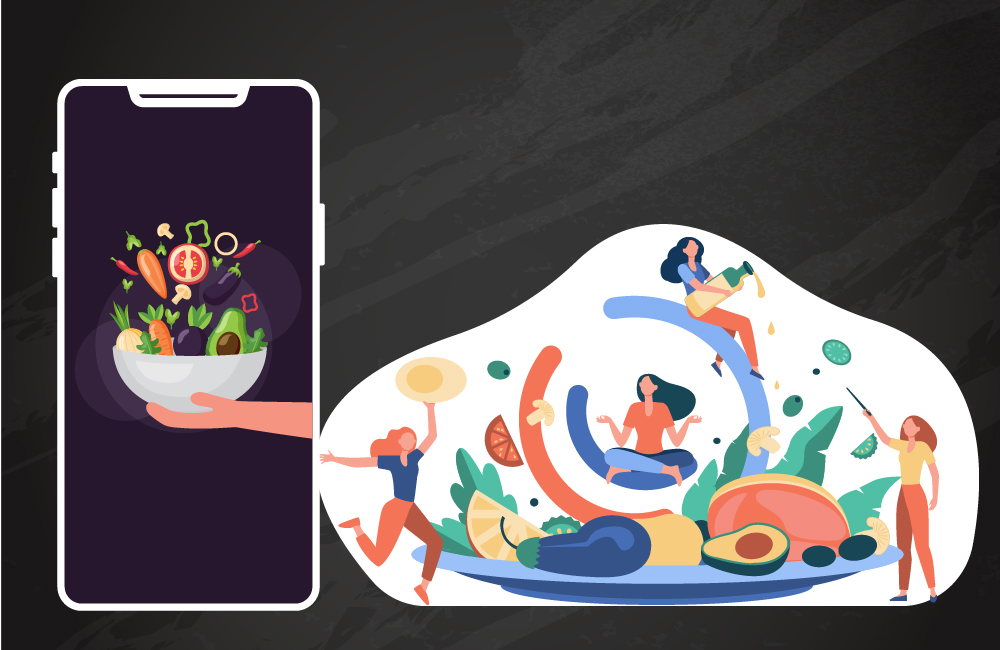 Meal planner app enables you to prepare meals ahead. The individual meal can be moved and organized in the app. This also creates a shopping list so that you don't forget any ingredient.
We come back from the supermarket a bit angry because we spend a fortune on food, drink and groceries, yet it often seems as if we have "nothing" to eat. Perhaps it is time to do some rethinking regarding meal planning to make each meal a success, reduce waste and thus achieve benefits for our health and our wallet.
With careful planning and organization, we can know what to serve for dinner in advance, what to defrost ahead of time, and we would have all the ingredients we need on hand for each meal. More importantly, spending on groceries becomes more manageable when you plan your meals.
Meal planning involves creating a list of foods, ingredients, spices, fruits, etc., to successfully execute your meals within a plan. With about 30 minutes per week of time invested, you can save money and time, and also save yourself from unnecessary stress.
Benefits Of Meal Planning
Save Money
Armed with a plan and a list, it only takes one trip to the store or supermarket each week, thus eliminating impulse buying opportunities. We will also save money by taking advantage of weekly specials to adapt to the menu, avoiding duplicate purchases and reducing the need to order takeout.
Save Time
It only takes about 30 minutes to plan a week of meals. By doing so, we can shop for groceries efficiently using the list, and we only have to shop once a week. On the other hand, it will also save us time in the supermarket, since we will not go through the gondolas and baskets endlessly, but we will go quickly and directly to find what we need.
That will give us the opportunity to even enjoy cooking time, instead of suffering because we don't know what to prepare with the ingredients we have on hand.
Eat Healthier
By planning three meals a day, seven days a week, we can eat breakfast right and avoid untimely intakes from vending machines at lunchtime or pastries and sweets when hunger strikes us and resist the temptation to order an expensive menu. Planning ahead allows us to enjoy more home-cooked meals made with fresh food.
Helps reduce food waste: We generally fall into a vicious cycle by being disorderly with our food. How do we know that hunger is going to surprise us at any time because we are precisely disorganized, we buy food that will solve that problem for us, so we never have more than packaged, canned or even many things of the same food? By not checking our pantry inventory before shopping, we routinely pick up more of those products that often pass their expiration dates before we can use them because we have too. A meal planner can also help us finish up leftovers, because a refrigerator full of forgotten food wastes money.
It helps to reduce stress. No more worrying about what to eat for dinner. Now, we have a plan. We will know when to get our food out of the freezer, avoid the mad rush through the store at the last minute, and most importantly, reduce the amount of money we spend.
Benefits of Mobile Apps
In an era where the use of digital technology has become essential on a daily basis, companies that want to be efficient and competitive must innovate. The smartphone is very essential creating excellent user experience. Therefore, using the latest technical features of these types of devices could only bring benefits to large companies and SMEs. Below are the best privileges that brands can gain by creating their own mobile software.
Increased Visibility
A successful communication campaign should include the creation of a mobile application exclusively made for the company. Due to the availability of the mini software via download platforms such as Play Store (Android system) and App Store (iOS), the online presence of a brand will improve. Indeed, referencing is done immediately and in an ultra-simple way. Thanks to the existence of an application attached to the name of the brand on the portals assigned to downloads, potential customers will have a positive image of the seriousness of the company. In addition, through its realization, the firm will be able to highlight its activities and new products / services if necessary. The subscriber will therefore be able to have an overview of the current offers without having to travel or research.
Improve The Customer Experience And Exchanges
Far beyond simple consumption, customers today tend to pay more attention to the quality of services, including welcoming and listening to their needs. When a brand adopts a mobile application, it allows its followers to enjoy a direct exchange space, in addition to a platform more suited to navigation. Shorter and exclusively suitable for mobile devices, the application guarantees a smooth and easy online journey. Thanks to in-depth support and the addition of new direct interaction methods (online chat, callback service, purchase assistance pop-up, etc.), the customer will also feel important. Direct company-client communication will no longer need intermediaries. Thus, the risk that competitors in the same industry will interrupt your communications is almost non-existent.
Effective Loyalty Tool
Winning customers is an important step, however, keeping them is a whole different story! A growing business will need to develop an effective technique to maximize the loyalty of all of its followers. The implementation of an application is therefore a perfect option in achieving its goal of loyalty. Native features made available to smartphone users can be good ways to build customer loyalty. Notifications are one of the proven systems. The process is simple: As soon as you start new posts or take action on your app, customers will immediately receive an exclusive alert notification. By focusing on engaging content, you can be sure to keep your subscribers' attention at all times.
Developing a restaurant app that is tailored to your business need will costs around $6,000 to $10,000.
"Above page is written for promotional purpose. We do not damage any copyright. We create apps from the scratch only."
Process We Follow
Being a Top development company, the proficient developers of our teams follow a well-organized development process that includes the following steps.
Requirement Gathering
We help clients to gather and analyze the requirements to understand the functionalities to be integrated into the app. This process enables us to draw a development plan and transform the clients' concepts into an efficient and functional app.



UI/UX Design
Our developers use effective UI trends to design apps that are not only pleasing to the eye but also intuitiveness and consistency. We make sure the applications not only satisfy the needs of our clients but are also simple and convenient for the end-users.
Prototype
We develop a preliminary visualization of how the mobile app would look and function. The prototype of the mobile application will give an idea of the look and feel of the app, and we test the users' reactions to the UI and UX designs.



Development
Our team of app developers has a thorough understanding of different programming languages, frameworks, third-party APIs, and more and will develop logic and codes to make your mobile application browsable for your target audience integrating various features and functionalities.



Quality Assurance
Our developers carefully test every app to ensure that they provide an excellent user experience and meet the requirements of our clients. Apps developed by our development team are bug-free because they go through a series of automated and manual testing before deployment.



Deployment
Our app developers follow strict guidelines and best practices of app stores to make your mobile application good to go. The app deployment phase will make sure your mobile applications can meet all the publishing criteria and reach your target audience.



Support Maintenance
All digital solutions need improvement. The deployment of an app is not the final stage. We work with our clients to offer post-deployment maintenance and support to make sure the mobile application always stays bug-free and trendy.



Get Free
Quote

Now !

Got An Idea? Leave A Message To Us And We Will Reach Out To You Soon.