Music Streaming App Development Company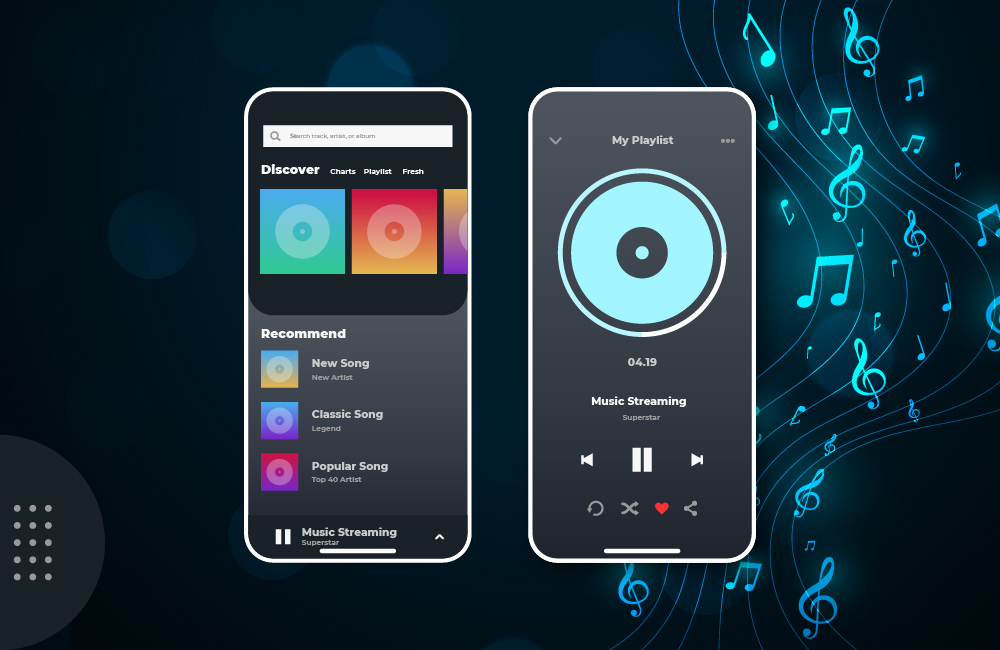 Music streaming is on the rise. The advantages of music from the cloud are obvious: location-independent access, huge selection on different devices and no space requirements.
The Concept Behind Music Streaming
Streaming music can be thought of as accessing an inexhaustible digital library. Music streaming services keep music, but also audio books and podcasts available on servers for their users. Spotify, Tidal, Deezer and other platforms offer such a large and varied selection that every musical taste is served. The streaming providers pay license fees to record companies for passing on the audio content.
On the other hand, the services make money through advertising and subscription fees. The low price for users (some offers are even free) is a major reason for the success of music streaming. The fee for the respective paid version is usually 10 euros, which is of course unbeatable compared to around 15 euros for a single album as a CD in a jewel case or 25 euros for vinyl. Unlike the songs on physical media or downloads, streamed music is only loaned. You only have access within the apps and only as long as you have an account with the provider.
Free vs. Paid Streaming Services
Market leader Spotify and competitor Deezer offer free music streaming in the basic model. Those who choose to do this have to put up with audio advertisements. On average, the advertising is seen after every third song.
The commercials fall silent if you opt for a premium account with the music streaming services. This also offers additional functions, such as the possibility of listening to selected music offline which is almost indispensable for frequent listeners, as audio streaming burdens the mobile data volume. Another premium feature is the adjustable streaming quality.
Advantages & Functions
Music streaming service for companies
Up to 35 different music streaming channels
Individual music streaming packages and offers tailored to your needs
Perfectly coordinated background music as a music stream
Competent advice and free training
Easily expandable with additional music streaming channels
Simply switch streaming channels at the push of a button
Regular music updates
No annoying advertising
Functional, inexpensive and maintenance-free music stream end devices or existing hardware can be used.
Quick and easy implementation for quick music enjoyment
With the practical calendar function, you can plan your desired music experience in advance: Simple operation, automatic start / stop function, days of the week can be individually configured
Backup in the event of an Internet failure: Warning notices in the event of an Internet failure, backup music file continues to play without the Internet
Fast support and music stream updates via remote maintenance
Attractive monthly music streaming packages without purchase costs
The Advantages Of a Music Streaming Service
From the point of view of the music lovers, they have access to millions of songs with a click from your mobile device, enjoy a new release made on the other side of the world without waiting for it to arrive at your store. And all this at a very low price. So low that nowadays, no platform that only offers music streaming services manages to be profitable having millions of subscribers.
Advantages For The Music Sector:
It is undeniable that streaming platforms have solved a great problem that had been causing the music industry to be on its own for years with illegal downloads or the sale of copies made from a home computer. It is perhaps the greatest advantage that we can highlight among all.
But we can also highlight the visibility of emerging artists, the data information we obtain for subsequent analysis and study of marketing strategies, the speed of launching a single or album globally, the reduction in prices in the distribution chain. The possibility of creating synergies and discovering new local or international musicians with whom to work. The possibility of placing a single in playlists with millions of monthly listeners, which was something unthinkable in radio stations previously where only a few signed by major labels accessed.
There are really many advantages if you know how to handle this technology well and take advantage of all the data and exposure that these platforms can give you globally. All this with a good release planning and subsequent analysis of what is happening in your artist profile and the interaction of listeners with your music on the different platforms. Hyperlink InfoSytem can help you with an excellent music streaming app such as Pandora, Spotify and SoundCloud. The cost of such app ranges from $5000 to $10000.
"Above page is written for promotional purpose. We do not damage any copyright. We create apps from the scratch only."
Process We Follow
Being a Top development company, the proficient developers of our teams follow a well-organized development process that includes the following steps.
Requirement Gathering
We help clients to gather and analyze the requirements to understand the functionalities to be integrated into the app. This process enables us to draw a development plan and transform the clients' concepts into an efficient and functional app.



UI/UX Design
Our developers use effective UI trends to design apps that are not only pleasing to the eye but also intuitiveness and consistency. We make sure the applications not only satisfy the needs of our clients but are also simple and convenient for the end-users.
Prototype
We develop a preliminary visualization of how the mobile app would look and function. The prototype of the mobile application will give an idea of the look and feel of the app, and we test the users' reactions to the UI and UX designs.



Development
Our team of app developers has a thorough understanding of different programming languages, frameworks, third-party APIs, and more and will develop logic and codes to make your mobile application browsable for your target audience integrating various features and functionalities.



Quality Assurance
Our developers carefully test every app to ensure that they provide an excellent user experience and meet the requirements of our clients. Apps developed by our development team are bug-free because they go through a series of automated and manual testing before deployment.



Deployment
Our app developers follow strict guidelines and best practices of app stores to make your mobile application good to go. The app deployment phase will make sure your mobile applications can meet all the publishing criteria and reach your target audience.



Support Maintenance
All digital solutions need improvement. The deployment of an app is not the final stage. We work with our clients to offer post-deployment maintenance and support to make sure the mobile application always stays bug-free and trendy.



Get Free
Quote

Now !

Got An Idea? Leave A Message To Us And We Will Reach Out To You Soon.