On-Demand Fuel Delivery App Development Company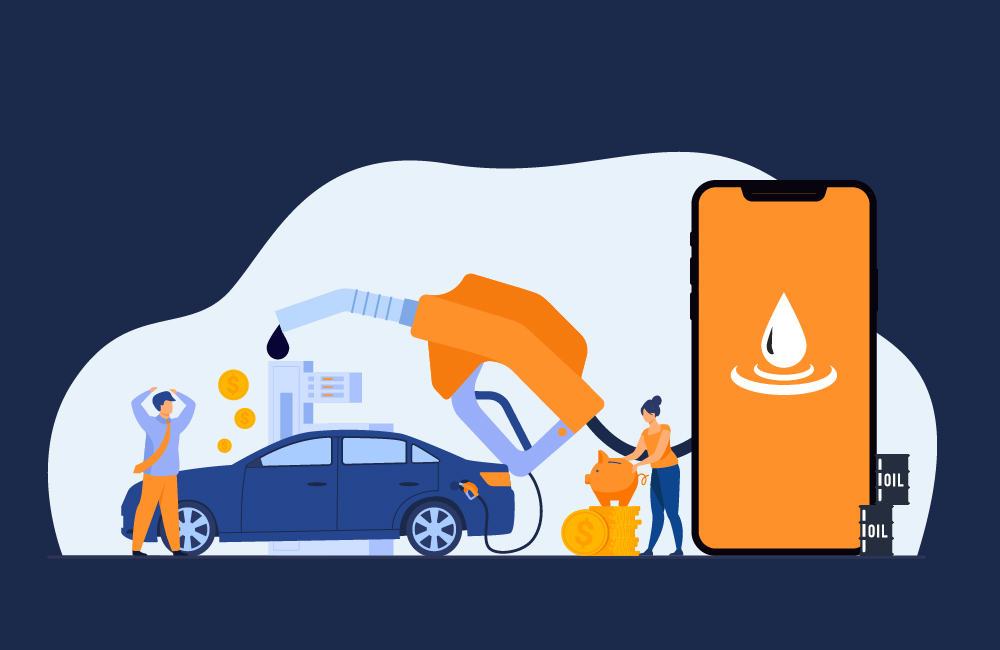 With our on-demand fuel delivery app, everything becomes simpler. There will be no more fuel shortages or going back and forth to the gas station. Today the fuel comes to you thanks to fuel delivery app.
And to save you time, everything is done online, from ordering to delivery, including monitoring, to guarantee simplified and centralized management through a dedicated online space to ensure and manage monitoring.
How It Works
Delivery times and places: To facilitate the management of your schedule and your fuel supply, first choose the time and place of delivery.
Give priority to your employees' working time: Avoid unnecessary trips for your employees to the gas station and save money by allowing the delivery of your fuel anywhere. Once the niche has been chosen, validate and pay for your fuel online.
Monitoring and savings: Thanks to this new digital service, monitor your consumption in real time, download your invoices and manage your orders in a few clicks.
Develop On-demand App For Your Business
On-demand was born mainly thanks to the changes generated since the appearance of smart phones and tablets, the changes that the internet has caused in the market and in the way products or services are offered. Uber is one of the main representatives of this modality, which has led many people to call this type of economy "uberization".
In general terms, the expression On-Demand refers to the fact that people pay exactly for the service they acquire in a certain time or for the amount that is consumed.
Although many consider this business model as something temporary, it has been shown that it is a very stable one, since it has been gaining more users. We can see this in the two most representative applications of this business model: Uber that it is valued at more than 40 billion dollars and Airbnb at more than 31 billion dollars. This shows that this type of activity can work perfectly, when a problem is correctly found and real solution is offered.
There are three simple classifications for this activity, where the main differentiating actors are those who provide and those who receive the service:
From person to person (C2C or Customer to customer)
From business to person (B2C or Business to customer)
Business to business (B2B or Business to Business)
On the other hand, establishing a company that works under this business modality can have many advantages:
Advantages
Establishing a platform that works under this model means a very low cost in hiring; Also reducing infrastructure costs, since it can be solved in the initial stages with small spaces and few people formally linked.
They are very attractive to staff, as they represent a flexible and more autonomous way of working.
Developed to solve specific, relevant and segmented needs or with a good differential, a higher growth opportunity can be presented in a short time.
Reasons To Consider On-Demand App
For years, there has been an increasing number of mobile app on the market that are offered "on-demand" instead of self-hosted "on-premise" solutions. Since on-demand software providers see themselves as service providers and partners, including when it comes to hosting, they also use the term "Software-as-a-Service" (SaaS).
Features That On-demand App Offers:
Effort
In contrast to on-premise solutions, which require a long preparation time for installation and implementation, on-demand solutions are like software-as-a-service ready for immediate use. The administrative effort is also lower with SaaS platforms, because there is usually no in-house IT administration. The responsibility for the maintenance of the software as well as backups and security lies with the provider. No further time has to be invested here. Another point to look out for is support. A reliable help desk is an important plus point for many SaaS systems. Take the subject of employee training, for example: SaaS learning platforms can easily be used in parallel with your company's existing IT systems. This means that the introduction of such a system can be carried out without any technical effort and, under certain circumstances, also requires fewer consultation levels within the company.
User-friendliness
Many Software-as-a-Service solutions impress with their simplicity when used. Thanks to its uncomplicated application and intuitive design, it is easy to understand even for your employees who may not be that familiar with the technology.
Especially in the field of e-learning, user-friendly systems are the be-all and end-all. For training courses that require regular repetition - your products may be updated continuously or your employees have to undergo annual compliance training. They make sense because they support the sustainability of the training and also serve as a kind of back-up for the everyday application of the new content in practice.
Corporate Identity
There is often the option of branding the software. By integrating your company's own logo and adapting the color scheme in your own corporate identity, your employees feel at home in the area. This adjustment normally applies equally to on-demand and on-premise solutions.
Efficiency
The great advantage of a browser-based on-demand solution is its efficiency. If users can log in via their browser from anywhere, online training is much more efficient than when it is tied to specific devices. A top mobile app development agency can assist you with the development of an on-demand fuel delivery mobile app. The cost of such app is in the region on $10000.
"Above page is written for promotional purpose. We do not damage any copyright. We create apps from the scratch only."
Process We Follow
Being a Top development company, the proficient developers of our teams follow a well-organized development process that includes the following steps.
Requirement Gathering
We help clients to gather and analyze the requirements to understand the functionalities to be integrated into the app. This process enables us to draw a development plan and transform the clients' concepts into an efficient and functional app.



UI/UX Design
Our developers use effective UI trends to design apps that are not only pleasing to the eye but also intuitiveness and consistency. We make sure the applications not only satisfy the needs of our clients but are also simple and convenient for the end-users.
Prototype
We develop a preliminary visualization of how the mobile app would look and function. The prototype of the mobile application will give an idea of the look and feel of the app, and we test the users' reactions to the UI and UX designs.



Development
Our team of app developers has a thorough understanding of different programming languages, frameworks, third-party APIs, and more and will develop logic and codes to make your mobile application browsable for your target audience integrating various features and functionalities.



Quality Assurance
Our developers carefully test every app to ensure that they provide an excellent user experience and meet the requirements of our clients. Apps developed by our development team are bug-free because they go through a series of automated and manual testing before deployment.



Deployment
Our app developers follow strict guidelines and best practices of app stores to make your mobile application good to go. The app deployment phase will make sure your mobile applications can meet all the publishing criteria and reach your target audience.



Support Maintenance
All digital solutions need improvement. The deployment of an app is not the final stage. We work with our clients to offer post-deployment maintenance and support to make sure the mobile application always stays bug-free and trendy.



Get Free
Quote

Now !

Got An Idea? Leave A Message To Us And We Will Reach Out To You Soon.