On-Demand Snow Plowing App Development Company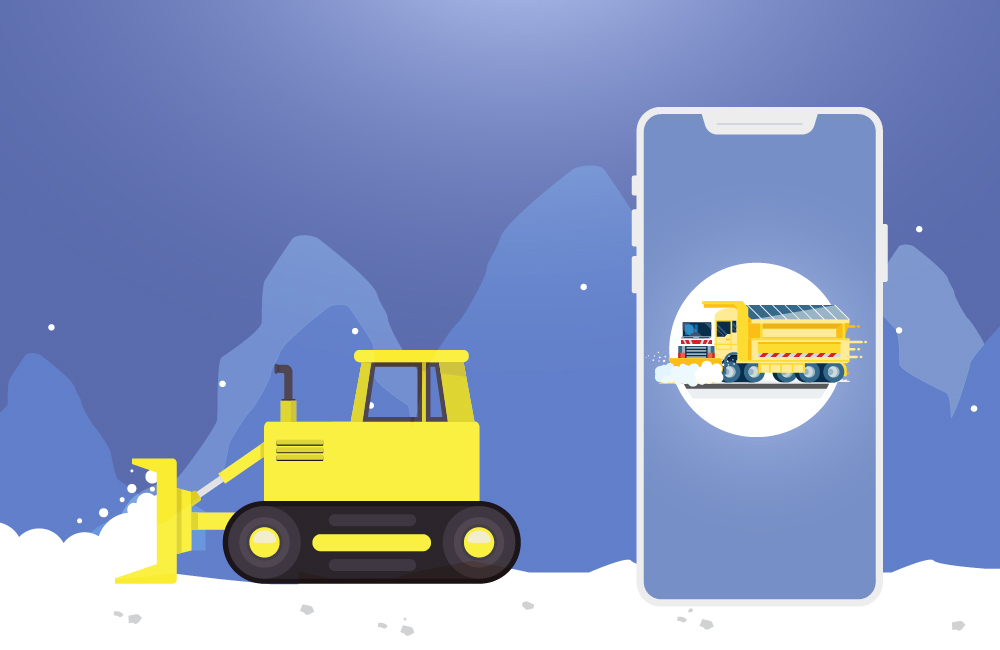 If you ever consider the development of an on-demand snow plowing app, you should contact Hyperlink InfoSystem. For years, there has been an increasing number of mobile app on the market that offer on-demand services.
On-demand software providers see themselves as service providers and partners, including when it comes to hosting. In contrast to on-premise solutions, which require a long preparation time for installation and implementation, on-demand solutions are like software-as-a-service ready for immediate use. The administrative effort is also lower with SaaS platforms, because there is usually no in-house IT administration. The responsibility for the maintenance of the software as well as backups and security lie with the provider. No further time has to be invested here. Another point to look out for is support. A reliable help desk is an important plus point for many SaaS systems.
Why Consider On-demand Services
On Demand services is a system in which users pay for a service only when they make use of it, which allows customers to manage their expenses more efficiently and without the obligation of having a fixed cost that they must pay, for example, at the end of the month.
This modality may be familiar to many people, considering that some of the most used mobile applications in daily activity such as Uber have an On-Demand system implemented. But its scope can be even greater, since this service has the potential to play a very important role in the operation of a company.
One of the benefits of On-demand for a company is that it provides a series of non-limiting services, since its main feature is that it offers resources on demand. Likewise, this implies a significant cost reduction, since you pay only for what you use, and in the event that requirements arise over time, resources can be incorporated with additional costs.
Being similar to an online or television service, this system is a new service standard associated with the technology industry and can be replicated to business operations and thus improve many operational aspects of an organization. Hyperlink InfoSystem can assist you with the development of an on-demand app.
Why You Should Contact a Snow Plowing Delivery Service Provider
A snow plowing service provider offer the following services:
Range of Services For Winter Maintenance
They offer you all main and partial winter service services in accordance with the local statutes - if necessary, also outside of the legally anchored service obligations. You can book various additional options for safe roads, sidewalks and parking spaces in addition to the standard winter service.
Grit Removal
In order to keep paths and roads clear, litter is often used during a cold spell. These include chippings, granules and sand. Anyone who has worked with deadening agents in accordance with the municipal statutes must also think about their disposal later. Litter can absorb oils and metals and thus become a burden for the environment.
Ice Removal And "blackout"
If ice and snow are completely removed manually or chemically, so that the asphalt underneath is completely exposed again, this is called a blackout. Snow plowing company will advise you on choosing the right spreading material. They point out prohibited or inappropriate substances and recommend alternatives that also remove snow and ice.
Snow Removal And Snow Relocation
If the snow deposit areas no longer offer enough space for the white masses, the only thing left is removal or relocation in order to avoid hindering business operations. Snow plowing companies support you in developing the right strategy in advance so that in the event of a snowfall, it is already clear where it can be moved. They analyze the demand and determine which areas need to be closed in the event of ice and snow and at what time in order to ensure smooth removal.
Temporary Takeover of Winter Service And Substitute Work
It can happen that you cannot meet your traffic safety obligations, for example in the case of vacation or illness. The temporary takeover enables you to transfer the necessary services and liability to a third party. Snow plowing companies offers you this service. They define the exact time frame and precisely assign liability issues.
Hyperlink Infosystem is one of the leading mobile app development agencies in the UK. We can assist you with the development of an excellent snow plowing mobile app.
"Above page is written for promotional purpose. We do not damage any copyright. We create apps from the scratch only."
Process We Follow
Being a Top development company, the proficient developers of our teams follow a well-organized development process that includes the following steps.
Requirement Gathering
We help clients to gather and analyze the requirements to understand the functionalities to be integrated into the app. This process enables us to draw a development plan and transform the clients' concepts into an efficient and functional app.



UI/UX Design
Our developers use effective UI trends to design apps that are not only pleasing to the eye but also intuitiveness and consistency. We make sure the applications not only satisfy the needs of our clients but are also simple and convenient for the end-users.
Prototype
We develop a preliminary visualization of how the mobile app would look and function. The prototype of the mobile application will give an idea of the look and feel of the app, and we test the users' reactions to the UI and UX designs.



Development
Our team of app developers has a thorough understanding of different programming languages, frameworks, third-party APIs, and more and will develop logic and codes to make your mobile application browsable for your target audience integrating various features and functionalities.



Quality Assurance
Our developers carefully test every app to ensure that they provide an excellent user experience and meet the requirements of our clients. Apps developed by our development team are bug-free because they go through a series of automated and manual testing before deployment.



Deployment
Our app developers follow strict guidelines and best practices of app stores to make your mobile application good to go. The app deployment phase will make sure your mobile applications can meet all the publishing criteria and reach your target audience.



Support Maintenance
All digital solutions need improvement. The deployment of an app is not the final stage. We work with our clients to offer post-deployment maintenance and support to make sure the mobile application always stays bug-free and trendy.



Get Free
Quote

Now !

Got An Idea? Leave A Message To Us And We Will Reach Out To You Soon.