Peer To Peer Payment App Development Company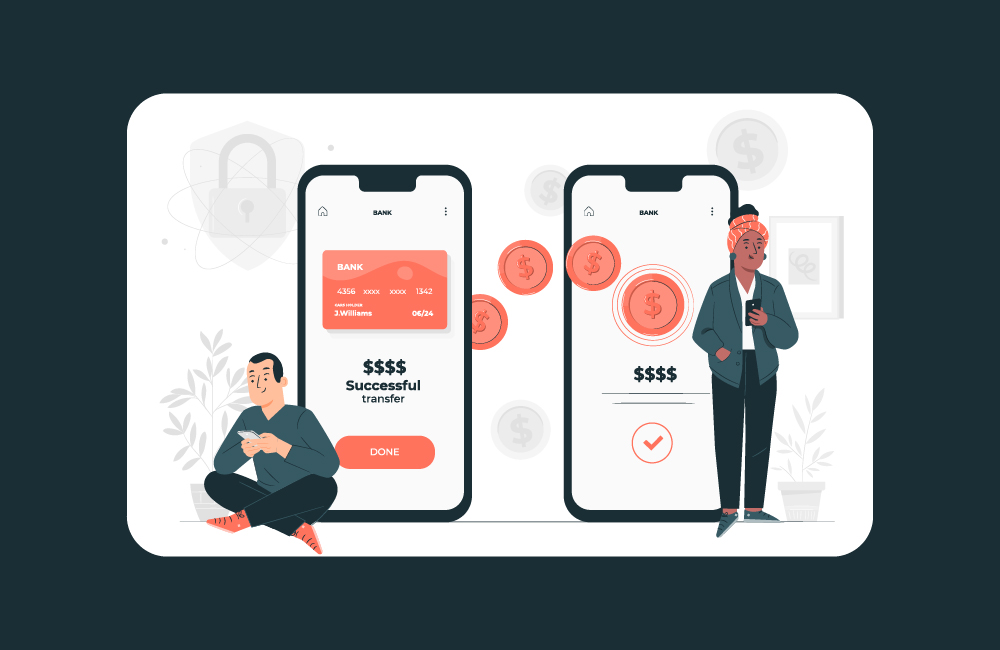 Peer-to-peer (P2P) payment services allow individuals to seamlessly transfer money from one person to another electronically, with just a few taps on their smartphones. Those admirable qualities are complemented by a level of security.
What Is Peer-to-Peer?
A connection that allows the exchange of files between computers without the action of a third party. This network model applied to businesses allow direct marketing of products and services: customer-buyer, using technology as an intermediation platform.
Peer-to-Peer Examples: Software And Networks At a Glance
Peer-to-peer computing is used in a number of web applications. Some of its important fields of application are presented here.
File Sharing
The best-known example of peer-to-peer computing, not least because of the discussions about copyright infringements, are file sharing platforms, which are often used to exchange music and video files. On these file exchanges, data is copied directly to one another without a central server. This P2P client can be used to access the directory of participating computers and download files from them. Some file sharing systems are not purely peer-to-peer-Networks as they involve a central directory server. This makes the system more user-friendly, but also less anonymous.
Torrenting
Depending on which videos, music or programs are shared, users of peer-to-peer clients can quickly slide into illegality. If the files shared are protected by copyright, there is not only a risk of criminal activity, but you can also download spyware onto your computer unnoticed.
Instant Messaging
Large instant messengers and VoIP services also rely on peer-to-peer. The best-known example here is Skype. Information about users currently logged on to Skype is not managed centrally via a server, but via super nodes in the peer-to-peer network made up of Skype users.
Collaboration / Groupware
The extended variant of instant messaging and VoIP are collaboration platforms. These also often work according to the peer-to-peer principle. Webinar platforms like Adobe Connect also work this way.
Distributed Computing
When it comes to performing complex computing operations, a server is usually not used. Instead, the operation is broken down into sub-tasks, the calculation of which is shifted to end systems in a network that are currently underutilized. Areas of application can be found in scientific research when evaluating large amounts of data.
Email Encryption
This does not include peer-to-peer encryption in the strict sense. Here, two computers are connected to each other equally and e-mail traffic via programs.
Peer-to-peer Lending
Peer-to-peer lending means that loans between individuals or companies are brokered online. Since the processing takes place entirely on the Internet, there are fewer costs than the traditional way via financial institutions. With so-called crowdlending, several amounts of money are combined into one loan and transmitted to the lender of your choice. Other forms of peer-to-peer loans are, for example, student loans and small loans.
Peer-to-Peer vs. Client-Server Technology
In contrast to the peer-to-peer concept, there is the client-server system. Here, tasks in the network are requested by a client (service user) and a server (service provider) performs them in the form of a program. The server thus offers its service to the client. The tasks that are referred as services include sending mail or accessing the Internet. A computer in the network can be a server and a client at the same time.
Develop Top Peer-to-Peer Mobile App With Hyperlink InfoSystem
With the democratization of data, the explosion of the smartphone market and the adaptation of our consumption habits to the digital age is now on the agenda.
Developing a mobile and tablet application allows you to meet the expectations of your customers by making yourself available, anywhere and at any time.
Some Advantages of Mobile App Development
Better User Experience (UX)
With more than 5 billion smartphone users worldwide and a penetration rate of 67%, your customers are connecting daily and for longer periods from their mobile devices. You should take advantage of mobile app development to offer your users a better user experience to the optimizations offered by mobile applications in terms of ergonomics and loading times.
A New Communication Channel
While it is true that responsive websites could be described as the best alternative to mobile applications, the latter offer irreproachable ergonomics and ease of use. Indeed, the applications are adapted to each mobile operating system (iOS and Android), which facilitates access to information and thus makes this channel essential to any digital strategy.
Improve Customer Loyalty
The significant advantage of mobile applications lies in the possibility of sending notifications. Push notifications boost the attractiveness of the brand since they make it easier to inform, interact and communicate about their latest offers, but also to build customer loyalty in a "user friendly" environment.
Integrate a Multitude of Features
Mobile applications offer new functions that can serve your digital strategy. Indeed, a mobile application can use the GPS, push notification, camera and so on.
With regards to the development of a peer-to-peer payment app, Hyperlink InfoSystem is the agency that is best suited to provide you with the needed solution. Depending on its features, the cost of a peer-to-peer payment is between $6000 and $12000.
"Above page is written for promotional purpose. We do not damage any copyright. We create apps from the scratch only."
Process We Follow
Being a Top development company, the proficient developers of our teams follow a well-organized development process that includes the following steps.
Requirement Gathering
We help clients to gather and analyze the requirements to understand the functionalities to be integrated into the app. This process enables us to draw a development plan and transform the clients' concepts into an efficient and functional app.



UI/UX Design
Our developers use effective UI trends to design apps that are not only pleasing to the eye but also intuitiveness and consistency. We make sure the applications not only satisfy the needs of our clients but are also simple and convenient for the end-users.
Prototype
We develop a preliminary visualization of how the mobile app would look and function. The prototype of the mobile application will give an idea of the look and feel of the app, and we test the users' reactions to the UI and UX designs.



Development
Our team of app developers has a thorough understanding of different programming languages, frameworks, third-party APIs, and more and will develop logic and codes to make your mobile application browsable for your target audience integrating various features and functionalities.



Quality Assurance
Our developers carefully test every app to ensure that they provide an excellent user experience and meet the requirements of our clients. Apps developed by our development team are bug-free because they go through a series of automated and manual testing before deployment.



Deployment
Our app developers follow strict guidelines and best practices of app stores to make your mobile application good to go. The app deployment phase will make sure your mobile applications can meet all the publishing criteria and reach your target audience.



Support Maintenance
All digital solutions need improvement. The deployment of an app is not the final stage. We work with our clients to offer post-deployment maintenance and support to make sure the mobile application always stays bug-free and trendy.



Get Free
Quote

Now !

Got An Idea? Leave A Message To Us And We Will Reach Out To You Soon.