Top Healthcare Mobility Solution Provider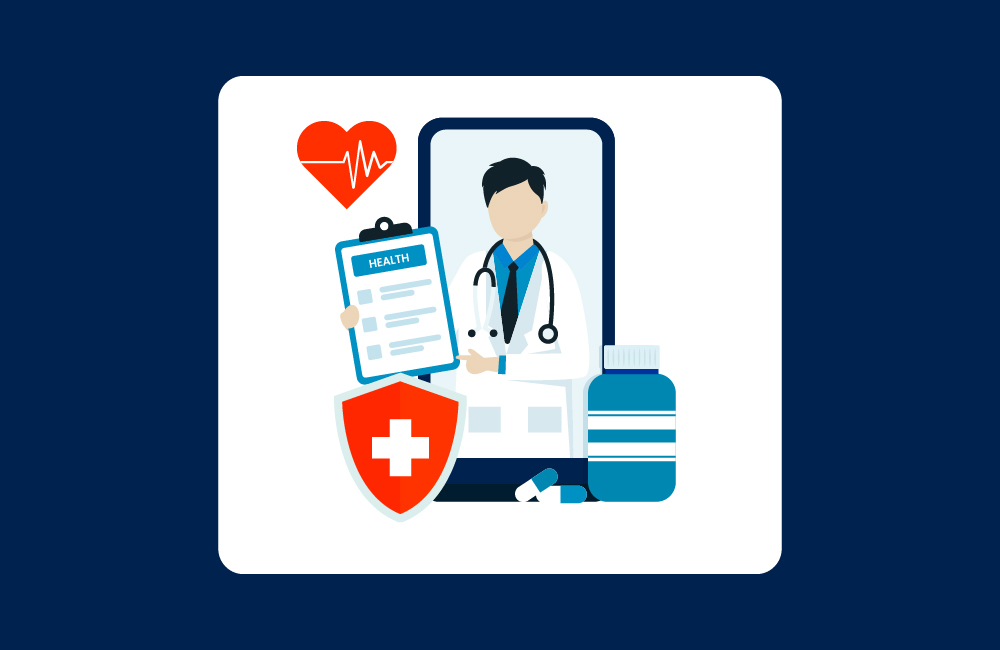 The digitalization in the health sector has long since reached the medical layperson and offers them a wide range of benefits in the form of health apps, fitness trackers, symptom diaries or diagnostic support systems. Some of these digital applications can confidently be classified as pure gimmicks for a target group with an affinity for technology; Others, on the other hand, have the potential to benefit the health of the user to a relevant extent.
A skin cancer app, for example, promises an initial assessment of skin changes by using an algorithm to detect malignant skin diseases in self-created photos. The potential advantages: The information is anonymous, feedback is provided within a very short time, a visit to the doctor can (mostly) be avoided, and in the best-case scenario, malicious changes are discovered early.
Develop Top Healthcare Mobility Solution
Access to the patient's clinical information from anywhere. Integrating relevant information from the clinical history of the patient with these mobile applications makes it easier for health professionals to quickly and easily access health data from anywhere.
Improve decision making. A benefit derived from the previous point: by allowing access to relevant information, health professionals are able to make more informed decisions based on patient information in real time, improving the safety of care.
Improves the quality and continuity of care. Mobile health applications allow clinical professionals to access the patient's Medical Record from anywhere, improving the quality and continuity of patient care.
Greater efficiency and productivity. Many doctors believe that the adoption of mobile health applications can improve the efficiency of clinical practice. The use of mobile applications by health professionals optimizes their work since it allows faster and more efficient access to patient information and improves coordination between health professionals.
Increased patient safety. Mobile applications for health professionals allow continuous monitoring and follow-up of the patient's condition. Through these tools, doctors and nursing staff have the possibility of reviewing vital signs, laboratory tests or patient progress notes, allowing decisions to be made without having to be in the hospital, as well as possible to redirect processes.
A top mobile app development agency like Hyperlink Infosystem can assist you with an excellent healthcare mobility solution. The average cost of such app is around $7000.
Health Benefits For The Users:
Quantified self: record of physical activity data, both automatically and provided by the user.
Nutrition: monitoring of nutrient intake and weight record, as well as other parameters related to food, displaying graphic information on health data and statistics.
Receiving health information and advice through different formats (text, video, images).
Disease management: access to health information and resources, drug management and therapeutic adherence, symptom control, registration of medical parameters, glucose levels, etc.
Communication with other users and professionals: social networks, communities of practice or messaging applications.
Access to personal data and clinical information: health folder and record of appointments in the health service.
Our Solution For Healthcare
Mobile app for hospitals
Mobile app for pharmacies
App for health advice and questions
App for health task and custom reminder
App for personalized healthcare
App for healthy diet
Benefits Of Mobile App
Here are some of the benefits that mobile apps offer us:
One of the main advantages is that many applications do not request access data, or the registration is done only once when downloading. This allows you to quickly and easily access the app. This is very important because we seek access to information quickly and at all times. It is characteristic of millennials to abandon, stop using or uninstalling any app that does not work according to their expectations and with the expected speed.
Another advantage is that they allow us to make all kinds of purchases from anywhere. From buying food, air flights, clothes and everything we can imagine. For the benefit of users, we do not have to download all the applications on the market. There are already applications that group many brands and companies, and it is here where we can buy with the same variety as if we were almost in a shopping center, supermarket or mall.
Another interesting advantage is the secure storage of our personal data. Strict security policies that consider geolocation, digital keys, messages with security codes and even fingerprints are considered before a transaction can be finalized.
There are many users who consume recreational and entertainment applications. For our benefit and fun, we find an endless number of game apps, most of them free.
The evolution of applications continues to develop in all sectors. Few years ago, it was almost impossible to imagine that mobile devices could be used to manage business transactions or inventories. Now. Mobile apps make it possible, with a completely web software that facilitates the administration of a company from any device with internet.
"Above page is written for promotional purpose. We do not damage any copyright. We create apps from the scratch only."
Process We Follow
Being a Top development company, the proficient developers of our teams follow a well-organized development process that includes the following steps.
Requirement Gathering
We help clients to gather and analyze the requirements to understand the functionalities to be integrated into the app. This process enables us to draw a development plan and transform the clients' concepts into an efficient and functional app.



UI/UX Design
Our developers use effective UI trends to design apps that are not only pleasing to the eye but also intuitiveness and consistency. We make sure the applications not only satisfy the needs of our clients but are also simple and convenient for the end-users.
Prototype
We develop a preliminary visualization of how the mobile app would look and function. The prototype of the mobile application will give an idea of the look and feel of the app, and we test the users' reactions to the UI and UX designs.



Development
Our team of app developers has a thorough understanding of different programming languages, frameworks, third-party APIs, and more and will develop logic and codes to make your mobile application browsable for your target audience integrating various features and functionalities.



Quality Assurance
Our developers carefully test every app to ensure that they provide an excellent user experience and meet the requirements of our clients. Apps developed by our development team are bug-free because they go through a series of automated and manual testing before deployment.



Deployment
Our app developers follow strict guidelines and best practices of app stores to make your mobile application good to go. The app deployment phase will make sure your mobile applications can meet all the publishing criteria and reach your target audience.



Support Maintenance
All digital solutions need improvement. The deployment of an app is not the final stage. We work with our clients to offer post-deployment maintenance and support to make sure the mobile application always stays bug-free and trendy.



Get Free
Quote

Now !

Got An Idea? Leave A Message To Us And We Will Reach Out To You Soon.