Top Restaurant App Development Company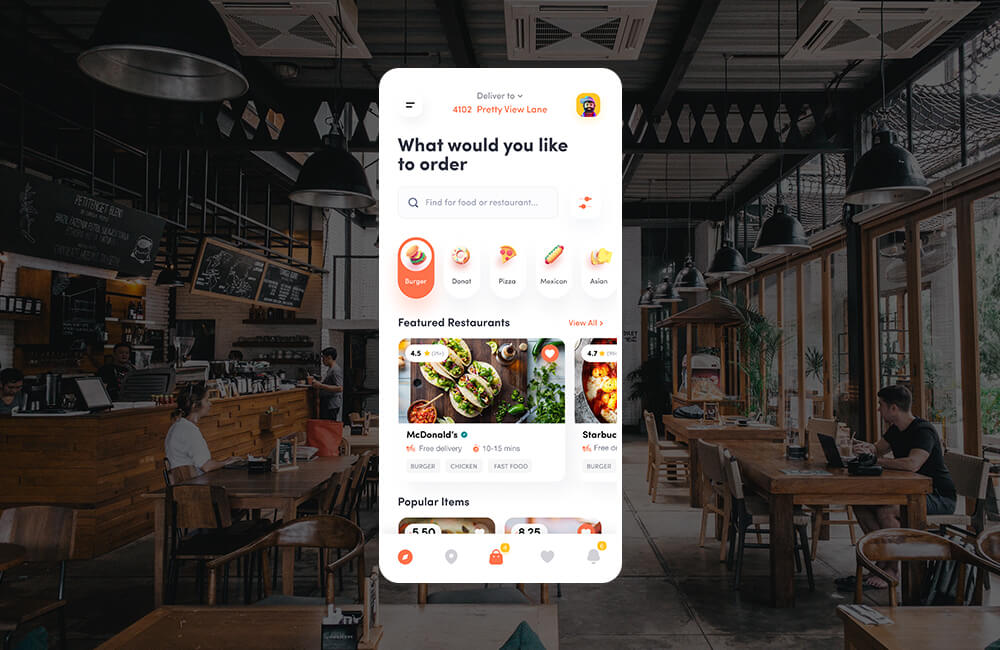 The first thought of the restaurant operator when introducing a new courier or takeaway order service is an app. However, the order can also be placed online via a website. Both channels have their advantages:
Order App or Website
Mobile app - they are popular, handy and easy to use. That is why your own restaurant app is best suited to retain existing customers and simplify the ordering process for them.
Website - In contrast to an app, a website can be positioned much better on search engines like Google. If the main aim is to make new customers aware of the newly introduced delivery service, the website is the better choice.
However, the choice depends primarily on what the current website offers and what the best option is. You are present on both channels with an integrated solution.
Develop a Good Restaurant Delivery App With Hyperlink InfoSystem
An app must be appealing and intuitive at first, otherwise there is a risk that a potential customer will drop out. If the app and the entire ordering process offer an excellent user experience, this increases the likelihood that the first user will become a returning customer.
Below, we list a few functions that make a good delivery service restaurant app. Although, this does not have to mean that good apps have to contain all functions. The app has to fit the restaurant, fast food or catering business and a simple and concrete app is often better received by users.
Design is Key
Today there are tons of apps and you can stand out with a good design. The design trends of mobile apps are constantly changing with new smartphones and operating system versions. This not only applies to the app itself, but also to the appearance in the AppStore, the flyer and the accompanying marketing measures.
The app design has to match the appearance of the restaurant and this can only be achieved with an individual development. Ready-made solutions and modular apps do not offer the necessary degree of customization and usually come with simple and outdated design templates that do not appeal at first sight, and the first impression counts. Our developers at Hyperlink InfoSystem can assist you with an excellently designed mobile app.
Profile For Loyal Customers
The easiest way is to implement the app without profiles, i.e. customers can only place the order as a guest. This does not mean that you have to re-enter your contact details and address every time, because these are stored locally in the app.
A profile enables advantages such as an order history, loyalty programs and that all personal information is also transferred when changing mobile phones. The profile requires registration and it remains to be considered whether every simple restaurant app should contain this.
Intuitive Ordering Process
The core of every restaurant delivery app is the order history. How does the user select the products? Can he change the order in the shopping cart or an order overview? Is a pre-order for the next day possible and coordinated with the opening times? How is the order confirmed? These are probably all details, but they contribute significantly to a good user experience.
Interaction With The Customer
The customer feels that he is in good hands when he is in contact with the restaurant. Immediately after placing the order, the customer should automatically receive a notification that his order has arrived and when the delivery is expected to arrive.
The interaction with the customer should also be maintained beyond the order. With an app, push messages can be sent perfectly timed in response to certain actions and follow-ups, e.g., to inform customers about new offers, opening times and discount campaigns or to send a personal voucher code.
Retaining Customers With Loyalty Programs
Your own delivery service restaurant app is the best channel to reward loyal customers and retain them even more. A loyalty program is a loyalty system. The app tracks how often the customer orders and can persuade him to place an order more often or to remind him again after a long time.
A loyalty program can be a digital stamp card or a playful point collection system, as well as responding to customer behavior in order to automatically play out individual loyalty campaigns.
Mobile Technology
An app can be programmed with different technologies, native, hybrid or as a web app. Native apps are implemented using the developer tools recommended by the operating system manufacturer. The majority of all apps and especially those of the major online delivery service providers are native. This means that the user interfaces are consistent, the user is familiar with them and the best user experience is guaranteed. In addition, the app has the best performance (loading times, etc.), although that can practically be neglected today.
Hybrid or web apps can be implemented faster because they are only programmed once for both platforms, iOS and Android. Whenever possible, we recommend native programming.
Content Management System
Although this point is not visible to the end user, it makes it easier for the restaurant operator to process orders and maintain the app.
As orders arrive, a formatted email to a specific email address is sufficient or should the order pop up in a dashboard or be integrated with the existing system. Is it sufficient to implement the content management system as a browser solution as usual, or should a device such as a tablet be installed where incoming orders are visible and can be processed. Larger companies will probably need such a system and for smaller ones with a lower order frequency, ordering by email should suffice.
"Above page is written for promotional purpose. We do not damage any copyright. We create apps from the scratch only."
Process We Follow
Being a Top development company, the proficient developers of our teams follow a well-organized development process that includes the following steps.
Requirement Gathering
We help clients to gather and analyze the requirements to understand the functionalities to be integrated into the app. This process enables us to draw a development plan and transform the clients' concepts into an efficient and functional app.



UI/UX Design
Our developers use effective UI trends to design apps that are not only pleasing to the eye but also intuitiveness and consistency. We make sure the applications not only satisfy the needs of our clients but are also simple and convenient for the end-users.
Prototype
We develop a preliminary visualization of how the mobile app would look and function. The prototype of the mobile application will give an idea of the look and feel of the app, and we test the users' reactions to the UI and UX designs.



Development
Our team of app developers has a thorough understanding of different programming languages, frameworks, third-party APIs, and more and will develop logic and codes to make your mobile application browsable for your target audience integrating various features and functionalities.



Quality Assurance
Our developers carefully test every app to ensure that they provide an excellent user experience and meet the requirements of our clients. Apps developed by our development team are bug-free because they go through a series of automated and manual testing before deployment.



Deployment
Our app developers follow strict guidelines and best practices of app stores to make your mobile application good to go. The app deployment phase will make sure your mobile applications can meet all the publishing criteria and reach your target audience.



Support Maintenance
All digital solutions need improvement. The deployment of an app is not the final stage. We work with our clients to offer post-deployment maintenance and support to make sure the mobile application always stays bug-free and trendy.



Get Free
Quote

Now !

Got An Idea? Leave A Message To Us And We Will Reach Out To You Soon.