Wedding Planning App Development Company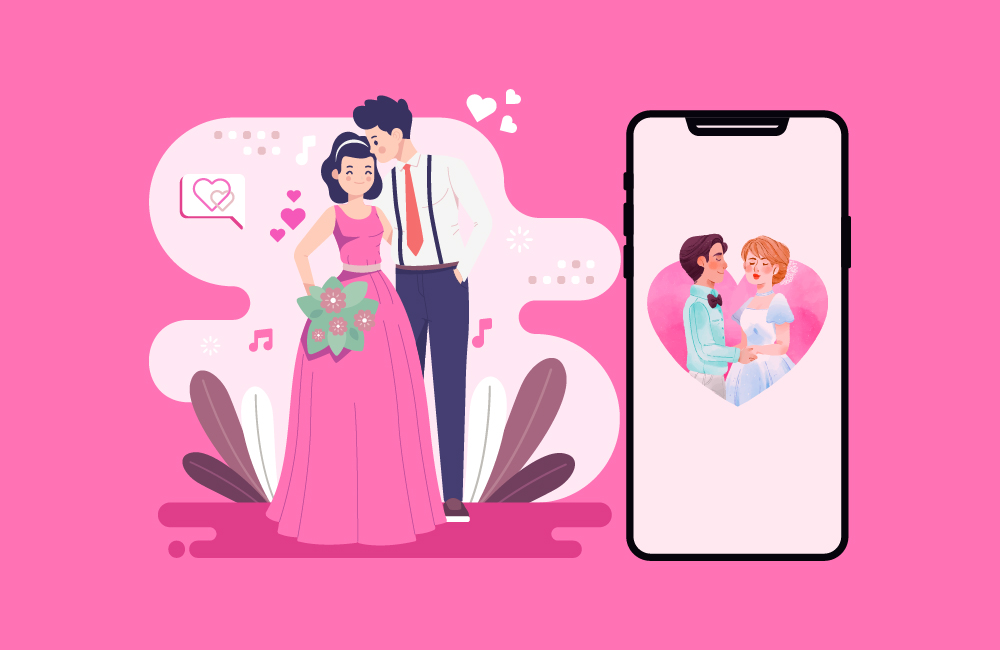 The invitations to your wedding, the decoration of the ceremony, the location, the restaurant, the flowers, the party, the wedding video, the photographer who will portray each unique moment, the music of the day can all be simultaneously managed by a professional with the help of a wedding planning app.
A wedding planner is an essential figure to have everything under control on your wedding day, without stress or burden and being calm at all times. In addition, your wedding will be a story and it is possible that if you let yourself be advised, your wedding will appear in the best wedding and bridal blogs nationwide. A wedding planner app developed by Hyperlink InfoSystem will be in charge of coordinating all the necessary details and supervising the development of the event to make it an unforgettable day.
Benefits Of A Wedding Planner
You save time: organizing a wedding isn't an easy task. There are a lot of details that you are not even aware that they exist until you get married. Organizing a wedding requires having to make many decisions and dedicate time that many people do not have. Some of the decisions include the negotiation, choosing the suppliers, and the times, the contracts, the decoration that best suits your personality and budget.
Peace of mind: everything will turn out as you expected. Everything will be under control. You do not have to worry. You just have to enjoy your big day. One of the advantages of hiring a wedding planner is that they always have a plan b, c and d. They are very used to managing the small unforeseen events that may occur. The flowers, seating and other types of details will be assembled properly.
Organize happily: you will avoid a multitude of discussions that often arise as a result of stress of organizing a wedding.
It adapts to your budget: the wedding planner will be in charge of talking with suppliers and negotiating with them to adapt everything to your budget.
Personalized Wedding: the wedding planner is to attend the couple and capture the personality of the couple so as to innovate and create a different wedding. Do not waste energy in wanting to cover everything. It is a day to enjoy and let yourself be carried away by a qualified professional. Brides, who are generally more attentive to the organization of this great event, have too many things on their minds: the dress, organizing the tables, the pages, details of the church or civil ceremony, choosing the right place, the wedding invitations and so on.
Essential Reasons To Consider Mobile App Development
Building Your Brand
A mobile application can help increase your brand awareness and image. A simple app in the app store that is then installed on a device can help increase visibility. Once the app is installed, the person will see your icon repeatedly when using their smartphone - even if they scroll past it to use another app. Apps also allow a bespoke user interface with some effects that are not possible on a website.
Engage With Your Customers
Apps can help you with customer loyalty. For retail and consumer stores, a loyalty program is an example of a feature a mobile app can provide. This can be entirely digital and can help encourage repeat purchases or encourage users to try something different. Messaging is another example of how you can get in touch with customers - and of course how they can get in touch with your company.
Personalization Of The Offer
Mobile apps enable detailed personalization. This can enable direct marketing tailored to the individual needs of the user. This can be achieved through in-app personalization, whereby suitable push notifications can also be used. In addition, analytics can be created to determine which parts of your app are used the most and to facilitate future decisions.
Improve Utility And Efficiency
An important benefit of a mobile application is that it can improve its usefulness and efficiency - both for your business and for the user. For the user, the app can make it possible to get tasks done faster and with fewer clicks. For a company, a mobile application can help automate more tasks - reducing the number of queries and manual work (e.g. paying in the mobile application versus using a card terminal or handling cash). Mobile apps also make it easy to collect feedback - from simple star ratings to more detailed feedback questionnaires.
The Competitive Advantage
A mobile application can be a competitive advantage. If you have an app and your main competitors don't, this is a good differentiator that can help a potential customer choose your business.
Hiring a professional wedding planner with the help of an excellent wedding planning app is an excellent way to help manage your wedding and makes it a memorable day. You can contact us at Hyperlink InfoSystem to assist you with such app.
"Above page is written for promotional purpose. We do not damage any copyright. We create apps from the scratch only."
Process We Follow
Being a Top development company, the proficient developers of our teams follow a well-organized development process that includes the following steps.
Requirement Gathering
We help clients to gather and analyze the requirements to understand the functionalities to be integrated into the app. This process enables us to draw a development plan and transform the clients' concepts into an efficient and functional app.



UI/UX Design
Our developers use effective UI trends to design apps that are not only pleasing to the eye but also intuitiveness and consistency. We make sure the applications not only satisfy the needs of our clients but are also simple and convenient for the end-users.
Prototype
We develop a preliminary visualization of how the mobile app would look and function. The prototype of the mobile application will give an idea of the look and feel of the app, and we test the users' reactions to the UI and UX designs.



Development
Our team of app developers has a thorough understanding of different programming languages, frameworks, third-party APIs, and more and will develop logic and codes to make your mobile application browsable for your target audience integrating various features and functionalities.



Quality Assurance
Our developers carefully test every app to ensure that they provide an excellent user experience and meet the requirements of our clients. Apps developed by our development team are bug-free because they go through a series of automated and manual testing before deployment.



Deployment
Our app developers follow strict guidelines and best practices of app stores to make your mobile application good to go. The app deployment phase will make sure your mobile applications can meet all the publishing criteria and reach your target audience.



Support Maintenance
All digital solutions need improvement. The deployment of an app is not the final stage. We work with our clients to offer post-deployment maintenance and support to make sure the mobile application always stays bug-free and trendy.



Get Free
Quote

Now !

Got An Idea? Leave A Message To Us And We Will Reach Out To You Soon.