On-demand apps have significantly impacted the market from shopping apps, taxi-booking apps, grocery delivery apps, and so on. It has transformed the way we live entirely and have been handy during the pandemic. Technology has made our lives so smooth and easy; there is no need to look for maids.
Those days are gone when we used to find maids for household tasks and go through a painful process. On-demand maid booking apps are rising in trend. This app finds house-maids who can work from cleaning to managing the kitchen. Launching such an app would be fruitful for your app development business. Several apps offer maid on-demand service; some are Homejoy, Get Maid, Best Cleaners, Serviz, Handy, and MadPro.
If you seek to build your on-demand maid booking app, this article will guide you thoroughly through the entire process of app creation. You will also know how to come up with a high-quality app and provide convenience to your users.
The Usefulness Of On-Demand Maid Booking Apps
In this super busy world, all can benefit from some help that comes on the way. The on-demand maid booking app proves to be of extreme help to the working people and house members. Such apps provide outstanding services for several categories, whether laundry service, cleaning service, or maids-for-hire. Handling these tasks on our own can be tiresome, time-taking, and takes up an entire day, leaving no time for other jobs.
However, with such apps, people can easily assign these tasks to house-maids. Besides customers, these apps are also helpful to service workers as they don't have to visit each house asking for work. All they need is to register into the app to begin working and earn a handful of money for their hard work.
How On-Demand Maid Booking App Works?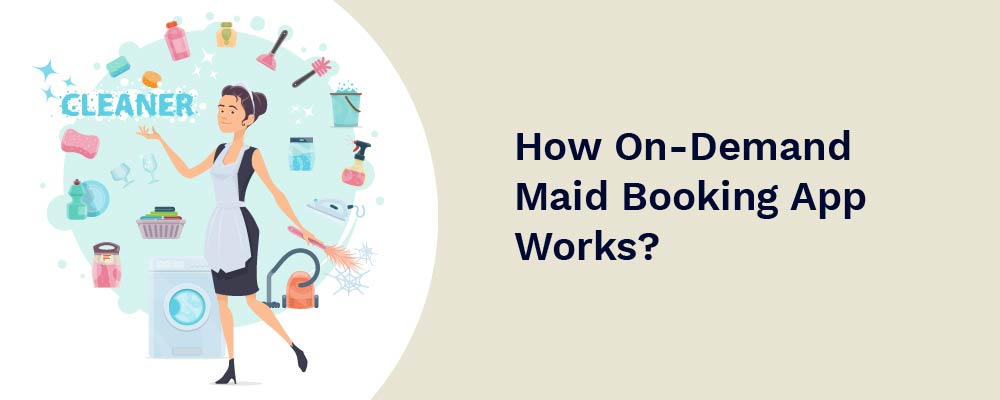 It's easy to understand the service mode of a maid booking app.
Sign up for the app as a customer: As app users, you only need to input your required info and begin recruiting personal maids & cleaners. The users can pick from broad-ranging services rendered by the app, like a part-time maid, full-time maid, laundry maid, house cleaning maid, or any personalized request by specifying your needs.
Sign up to the app as a service provider: By registering into the app as a service provider, as a firm, or individually, you can provide your cleaning services to various clients in the vicinity. It gets simpler for the service providers to manage available timings & services from the app. Also, by registering with the app, they can even receive the user needs for maids, revert with the appropriate quotes, update the task status, track payments, & more.
Common Categories For On-Demand House Cleaning App
Below mentioned are the common categories for maid booking apps:
Cooks
Senior caretakers
Baby massage
Child care
Patient care
Pet care
Laundry
House cleaning
These are some typical services offered by maid booking mobile apps. But most apps also offer tailored request sections, where users can input their custom requests and then receive a price quote and move ahead accordingly. Top app developers and top software companies can choose to include as many categories and services as they require.
Critical Features Of A Maid-Booking App
For Customer:
Social signups and logins
Search maids in close areas
Pick & view cleaner's info
Reserve multiple cleaners
Cancel or reschedule the booking
Make payments
Real-time tracking
View order history
Review and rating
Get notifications
In-app chat/call
For Maid:
Update Profile info
Upload verification docs
Accept or reject a booking
Notifications & alerts
Update the end time
View earnings and invoices
View job history
Track job location
For Admin:
Manage maids and customers
Include and remove info
Validate docs
Manage payments
Manage bookings
Accept or reject maid registration
Advanced Features Of A Maid-Booking App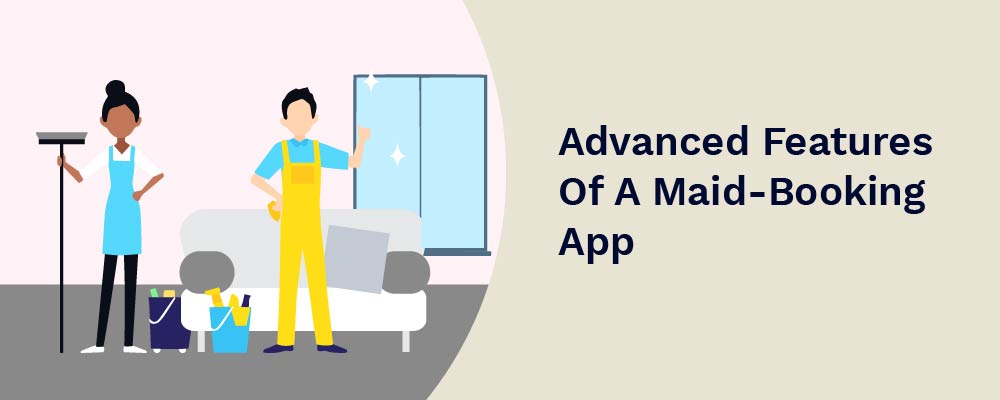 Request scheduling: This feature is somewhat popular amongst users, since who would like their request for maid being canceled at the last minute? With this feature, the user can reserve the maids as per their needs beforehand.
Hire teams/individuals: Sometimes, users might need the help of many home-service experts. For instance, when shifting to a new house or organizing a party.
Sync push notification feature: This feature is the core to engage app users with the app. It could be used to alert users about discounts, maid allocation, offers, progression, order confirmation, and other info that requires to be communicated to the users. As the user's app interaction rises, it will improve business visibility and establish a loyal user base.
Enable hassle-free online payments: Nowadays, people find the online payment option pretty convenient, and in this concept as well. It can be handy to sync this feature into the app. This way, users can make prompt and cashless payments as soon as the service has been delivered. Various payment modes can be implanted here in the form of debit or credit cards, Braintree, PayPal, Stripe, etc.
Assign the task to users: In this feature, the admin assigns the maids to the required user as per the location form, where requests are made for maids and based on their experience & availability.
Sync GPS feature: The GPS is a core feature for a maid-booking app as it assists the users to explore the maid options in their areas or nearby. This way, the users can comfortably book a nearby maid as per their needs using GPS.
Safety concern: This is vital for any business to ensure that the maid's background has been thoroughly checked. Thus, provide detailed documentation and complete maid verification who are assigned by you to the users. This way, you guarantee client safety and the brand's reputation.
The Cost Of Making An On-Demand Maid Booking App
The app development cost of maid-booking apps depends on several factors like app complexity, development platform, app features, and more. However, the development region is the most crucial aspect where the app cost varies significantly. For instance, the development cost in North America is approximately $150/hr, in Europe it is $130/hr, in Australia, it is $200/hr.
Final Words
To create a highly functional and powerful mobile app, you need to recruit a mobile app development company in UK that understands your business needs and is interested in listening to your views and ideas about the mobile app. Make sure to run a background check for the company and its experience level before making any decisions.