If we open Google Play Store or Apple App Store, we will find millions of mobile applications from different industries. Hence, there is a cut-throat competition in it, and sustaining it is challenging. As time went by, it became even more complex to be part of it as the mobile application development companies keep trying to do something to make users like the applications and not leave their applications.
It takes lots of strategies and implementation to execute it. Nevertheless, the only thing you require is tips on how to obtain visibility and spread it to more people to use it. Therefore, in this article we will tell you what to do to develop more app downloads.
Following Are The Tips To Get More App Downloads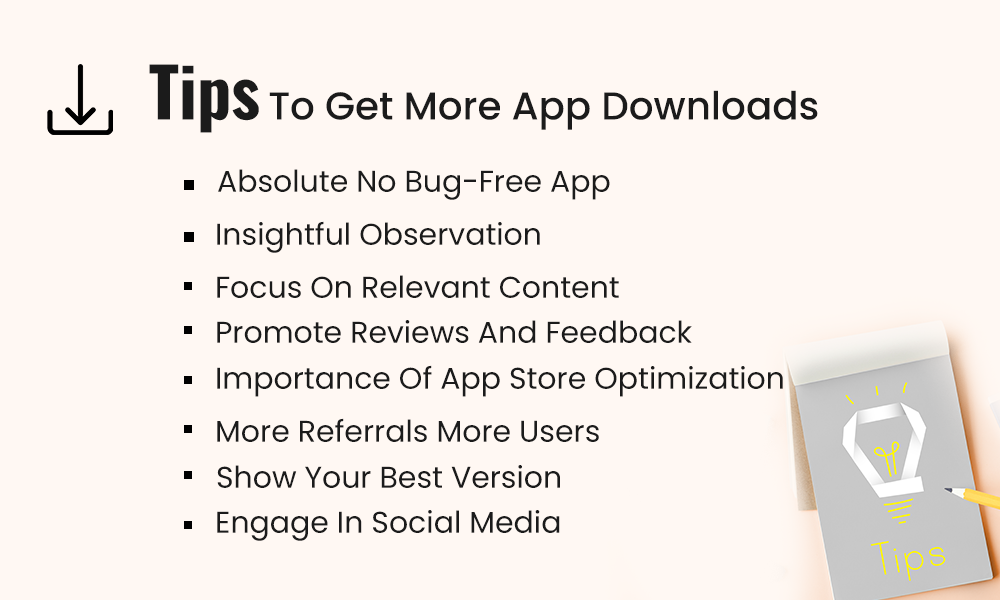 Absolute No Bug-Free App
The first thing; the user will notice - how the app works. No one will like it if they are browsing the application and it stops. It will be a red flag, and they will leave the app and never come back to it. Therefore, it is essential to make your application bug-free. It should never crash or be filled with significant errors.
Nevertheless, it's more fruitful to take a unique approach - your app should pass by multiple experiments -- so that app builders can recognize all likely glitches and resolve them before you begin your app open to the public.
Insightful Observation
It is necessary to continually examine how users communicate with your app to guarantee that they continue to be interested. You can observe actions to optimize your upcoming drives. See what they like, dislike, and expect from you, and act according to that. The majority audience stops visiting after two or three visits, thus ensuring your app is so interesting that they attend more than thrice. It will help you to make an upcoming campaign.
Focus On Relevant Content
Generating relevant content to develop your app can help you to attract more potential users. It may be the source of sponsored content, videos, online articles, or infographics, although it relies on your audience's usage practices. If you own a shopping online mobile application, you merely cannot post content about the dancing app; it is totally irrelevant to the target audience. You can also experience user-generated content to help form an insight into the community.
Promote Reviews And Feedback
Establishing your app store perceptibility is the only individual part of enhancing downloads. Once users know your app, you'll necessitate to assure them that your app is worthy and good enough to download. It is where feedback, surveys, and reviews matter.
Users tend to trust recommendations given by others, such as user surveys, over other means of promotion. You can boost user feedback by in-app messages; although you will be required to be vigilant for not assigning too many notifications as that may end up irritating your audience. Reviews not only designate the essence and significance of your app to inherent downloaders, but they also present an outstanding opportunity for you to involve with consumers.
If reviewers offer advice or even objections, you can reply and tell possible users how essential they are to feedback. By making this constantly, you'll gain encouragement and trust more app downloads as a conclusion.
Importance Of App Store Optimization
The importance of App Store Optimization is a mere but significant step to influence app downloads. Remember that it needs back work to be flourishing. ASO is more than descriptions, ratings, keywords, and reviews. You also need to think about how keywords rank in each app section. You can also do A/B tests to know which store assets most resonate with your audience so you can maintain improving your app store page. Keep in mind in the end; it should be relevant and constant.
More Referrals More Users
Referrals are another way to display quality, significance, and assurance, which will help boost downloads. You can adapt your current users into brand representatives by providing them with a reason to refer your app to their associates.
For instance, if you have a payment app, you can offer free rewards and referral codes for the user to join. It will keep the user engaged and likely attract more customers.
Show Your Best Version
App stores are only shifting more abundantly, and with the business driving toward the concentration of mobile apps and mobile web, it's quick to consider how your brand changes across various channels instead of concentrating on just your app or web experience. And it's more than just marketing beyond those ways, but being able to estimate their power too.
Whether customers are getting entertainment or help with achieving a specific task, they have lots of apps to choose from. Employ the tactics and tech mass that will make your brand at the beginning of the pack.
Engage In Social Media
Content influences social media, and managing a solid online appearance can be an efficient method to expand your reach and introduce your app to different customers. Notwithstanding, your target audience will consume time on the solo platform over another, so paying attention to your user demographics is significant.
Do not forget that you will require more than serving sale pitches on social media to draw attention. Acknowledging your followers and urging them to share their ideas shows that you consider your audience's judgments.
Final Words
Launching the mobile application would never be enough, even though it is great and unique. Sure, it will make users download the app- but to keep them using the mobile application daily is a task. You demand to promote it. With today's growing competition, it is vital to obtain innovative app development strategies to guarantee you get more app downloads and your app is victorious.
Although app promotion is always more apparent with business, it's likely to get more app downloads without needing to up your promotion budget. There are numerous highly effective ways for spreading awareness.