The increasing demand for mobile apps has tilted the businesses' focus towards mobile app development to widen their reach and earn more revenue. The release of more advanced and modern programming languages, frameworks, and libraries enables app developers to build breakthrough apps. With more than one platform, cross-platform app development is trending like never before as it allows developers to develop apps on various platforms (iOS, Windows, Android) with a single code base.
Of all, React Native is an exceptional cross-platform app development framework launched by Facebook. React Native's JavaScript library has grown massively, and most of the developers like using this framework for creating apps. This JavaScript library helps developers in building UI for mobile apps and web apps. This is an open-source library that makes robust apps and involves several components you can use in 2021.
React Native has thousands of high-performing component libraries, and it can be a tedious task to research the best ones. However, we have made your work easy as we pull the top component libraries for you to use in your apps. We have considered several aspects such as design frameworks, several UI components, UI layouts, animations, and utilities.
What Is A React Component Library?
It is a cloud-based folder consisting of all the designed parts of the software or a website. It helps app designers consistently as it builds the mobile app quicker, using a predesigned set of components.
List Of Top React Native Component Libraries
1. Lottie
This one enables you to add stunning animations to your app. You can go for free animations or build and add your own with Adobe after effects. This is a mobile library for iOS & Android that analyzes Adobe After Effects animations exported in JSON format using bodymovin and provides them natively on the phone.
Lottie can improve your mobile app's user experience & performance. With more than 13,500 stars on Github, this library is what you must be familiar with in 2021.
2. Native Elements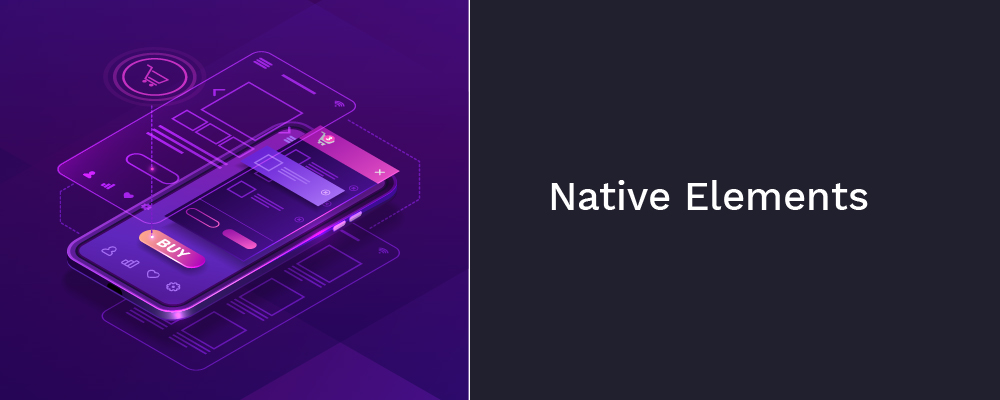 This is a cross-platform React Native UI toolkit that combines various UI components. The components in the React Native Elements Library have a single theme running through them. It has one central location, from where designers can update the colors used in all components.
React Native elements library has gathered 17k stars on Github. The package consists of components like overlay, badge, pricing, and platform-specific search bars. They are user-friendly and customizable.
The author of this library says that the idea is more about component structure than actual design, which means less boilerplate in adjusting certain elements but complete control over their design, making it attractive for new developers.
3. Ignite CLI
Ignite CLI makes things easier for developers as it makes the setup and development process faster. This default boilerplate helps designers build native apps easily for free. It installs easily and follows the best practices in its development while enabling you to embrace the boilerplates for your project.
The best thing about this component library is that it works fantastic in both iOS & Android. Ignite CLI has become quite trending among users and has earned over 10k stars on Github.
4. Native Paper
This is another open-source library and is free to use. It includes all the significant components, and it is created taking into account Google's Material design standards. This library is cross-platform and operates on mobile apps as well as the web. Native Paper has a dark theme as default and enables you to switch themes without any difficulty.
This library includes interactions and components to match mostly every use-case scenario. Most details include accessibility, animations, and UI logic. This library has 7500 stars on Github, and you can totally count on it to build a dark & light theme swiftly.
5. Native Base
The native base is a dynamic front-end component library & it's a collection of essential cross-platform components and an excellent place to start developing your app as an amateur. Moreover, it also offers customized elements.
This is an open-source library, having 13k stars on Github. But the themes are not for free; they are tagged with a premium price. This library includes a Twitter clone app, a tutorial app, and a Native starter app.
6. Nachos UI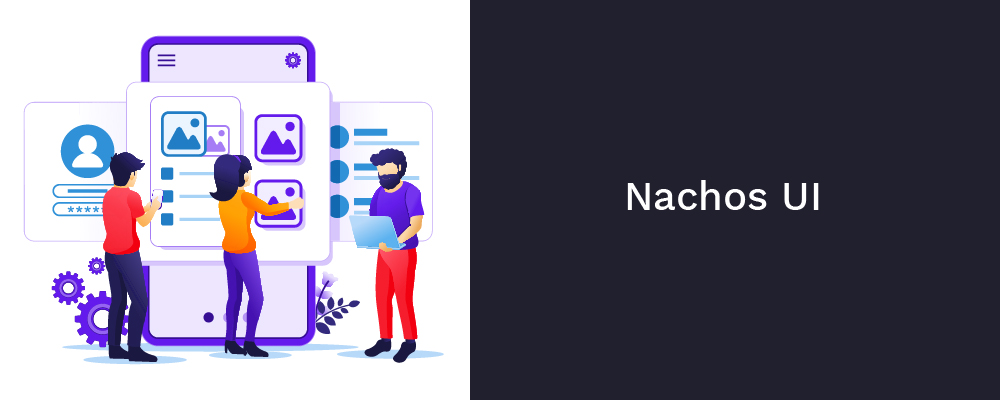 Nachos UI gets more than 1900 stars on Github with over 30 pre-designed components that you can use with any React Native or JavaScript project. Here, you need not worry about styling any element; you just need to import any of the pre-styled code from one component to another.
The components in this library are fully customizable as per your needs. Different components rendered by Nachos UI include Bubble, Button, Carousel, Badge, Card, Input, Spinner, Slider, etc. This community-driven library uses the Avocode tool for sharing and examining sketch designs and photoshop.
7. Gifted Chat Library
This component library is an all-inclusive one to set up a chat UI for your app. This chat component has completely customizable features like multiline text input, copying messages, loading previous messages, attachment options, clickable links, etc.
You can make your own chat UI & tailor it easily. This library has over 10,000 stars on Github and is one of the top chat libraries to build a chat component.
8. Material Kit
This is another library that brings material design to React Native. In this library, you will discover range sliders, buttons, cards, text fields, etc. It even has progress bars and spinners to show loading and toggles for switches. Using this library, you can tailor the styles by modifying the theme. This library has 4700 stars on Github.
Final Words
These are some of the top component libraries if you are looking to develop for your React Native app development to create an exceptional app. At Hyperlink Infosystem, you can find some rare React Native app developers from android app development company who can develop a fantastic web app or mobile app to use the library that matches your needs.