The correct programming language must be chosen with great care while creating iOS apps. According to the data, 27% of mobile devices linked to the internet run the iOS operating system, making iOS app development a flourishing sector.
There are also an incredible 2.22 million iOS applications accessible in the App Store, according to a recent statistics release from Apple. This vibrant ecosystem of iOS apps highlights the immense potential for both developers and businesses in the iOS app development industry. In order to become top iOS app developers or just to create a successful iOS app, picking the right programming language is a crucial first step.
Best iOS App Development Programming Languages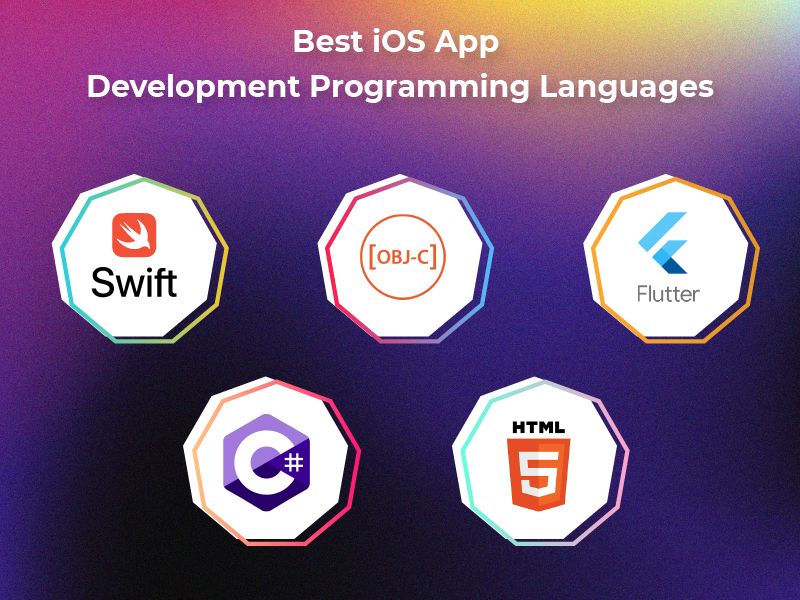 1) Swift
When it comes to
iOS app development
, the unanimous response to the question of which programming language to choose often leads to Swift. It has emerged as a frontrunner in shaping the future of iOS app development.
Introduced in 2014, Swift has rapidly risen in popularity, becoming one of the preferred languages for iPhone app programming. In the 2020 Tiobe index, Swift earned its place as the 11th most popular language, with a nearly threefold increase in votes compared to the previous year.
Swift is a powerful programming language that is renowned for producing native iOS apps of the highest caliber. It is a strong option for developers in the field of iOS app development because of its detailed design to interface flawlessly with iOS frameworks like Cocoa Touch and Cocoa.
Scalability, interoperability (particularly with objective-C), open-source, and quick development are some of its main advantages. Along with ARC (Automatic Memory Arc), Swift app development also offers data security during the development phase.
This coding language's small user base is by far its biggest drawback.
2) Objective-C
Objective-C has a lengthy history in the realm of iOS app development as the forerunner of Swift. Its initial design, which had certain characteristics with object-oriented programming language C, dates back to 1984.
Objective-C is still a general-purpose programming language that is compatible with both Mac OS and iOS, despite its advanced age. In fact, it was the primary iOS programming language until Swift was released.
The relative advantages of Objective-C and Swift have been a topic of discussion among iOS app developers for quite some time. Readability, coding effectiveness, execution speed, and code maintenance have all been discussed.
On the plus side, Objective-C is frequently viewed as a reliable and developed language, thus some iOS app development companies can still give it a shot for legacy projects.
3) Flutter
In 2015, Google developed and publicly unveiled Flutter, a
popular programming language
for building apps. It stands out as an excellent free and open-source programming tool that works with a variety of operating systems, including Windows, Mac, Linux, Android, iOS, and even Google Fuchsia.
The ability to construct cross-platform apps that are aesthetically pleasing and user-friendly is commended for Flutter. It does, however, have a special combination of advantages and disadvantages, much like any other technology.
In contrast, compared to more established languages like Swift and Objective-C, its skill pool is very small and young, which presents a hurdle. However, given its increasing popularity, this skill pool is probably going to grow, making Flutter an alluring option for iOS app development projects.
4) C#
Microsoft developed the high-level, all-purpose, and object-oriented programming language C# in response to Java. It's essential to building Microsoft software and is akin to what Objective-C is for Apple.
C# is currently one of the most popular and well-known programming languages, according to industry experts. The Tiobe August 2021 index places it as the fifth most popular language, and its variety adds to its appeal.
There are several benefits to utilizing C# when creating iOS apps. Since it is an open-source language, developers with intermediate to advanced abilities will find the development process to be simpler. Additionally, it has a sizable skill pool, and an extensive library of materials, makes cross-platform app development easy, and, when compared to other programming languages, has a favorable cost-benefit ratio and integration options.
C# is critiqued for its subpar platform GUI, which may not align with the aesthetic standards of all iOS apps. It may also pose a steeper learning curve for beginners, given its complexity. Despite these challenges, C# remains a compelling choice for iOS app development due to its extensive capabilities and strong industry support.
5) HTML5
In the realm of iOS app development, HTML5 is often employed by app developers alongside JavaScript and CSS. Remarkably, according to W3Techs, HTML5 is the backbone of almost 88.5% of all websites, underscoring its widespread adoption and utility.
While not as favored as native apps, hybrid applications harness the power of HTML5 in combination with CSS for page rendering, offering an excellent degree of browser control.
HTML5's advantages encompass its support for multiple platforms, cost-effectiveness, consistent performance across various browsers, offline browsing capabilities, and the potential to enhance page rankings. Nevertheless, there are certain drawbacks to consider.
It is primarily suited for hybrid app development and may exhibit limited functionality compared to native apps. Especially when it comes to ensuring the greatest user experience across multiple screen sizes and orientations, design responsiveness can provide extra challenges.
Conclusion
Choosing the best programming language for iOS app development is a key decision in the ever-growing industry of mobile app development. Among the various languages, Swift, Objective-C, Flutter, C#, and HTML5 are just a handful. Each has advantages and limitations. Since various languages satisfy a range of demands and preferences, it is imperative for companies and developers to match their language preferences with the needs of their projects.
For businesses and entrepreneurs wanting to begin an iOS app development project, working with an iOS app development firm is a wise choice. They can help you navigate the difficulties of language selection, development, and deployment so that the goal of your app is accomplished.
To make an informed decision for your app development journey, consider their portfolio and skills when looking to
hire iOS app developers
or work with an iOS app development companies.