Depending on how they work, a distinction is made between two types of chatbots:
Rule-based chatbots conduct communication according to the predefined rules. This type would be sufficient for simple applications. However, it is important to carefully consider question-answer options and add them to the knowledge database, which the rule-based chatbot will access when searching for suitable answers.
Chatbots based on artificial intelligence can constantly learn. Technically, AI-based chatbots require more effort. But self-learning chatbots offer extended possibilities.
What Does A Chatbot Do?
Many examples show that chatbots can be used in a wide variety of ways. Chatbots are integrated into various websites (intranets, online shops), desktop and mobile messenger services (such as Telegram, Slack, Skype) or social network platforms (such as Facebook, Twitter) as well as in the individual software to enable companies to provide supports such as:
To answer repeated questions.
Process inquiries in 1st level support.
To reserve or rebook tickets/seats/rooms.
Make appointments.
Order food/goods.
To inform and guide customers/employees.
Manage employee plans.
Advantages Of A Chatbot
Most of the time, customers choose chatbots to get the following benefits: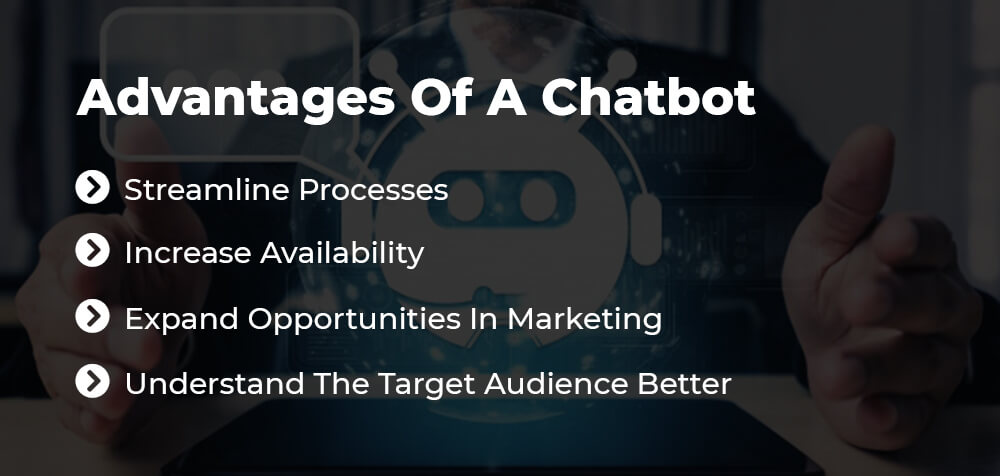 Streamline Processes
Chatbots can support customers in their search for specific products and services, find them more quickly and provide suitable information.
Chatbots can break down complex processes into clear steps and thus offer customers personal advice (e.g., in the insurance or health sector).
Chatbots offer a way to process simple customer inquiries (order products/services) in a matter of seconds.
Increase Availability
Chatbots are available around the clock and are therefore always ready to talk.
Chatbots can switch languages depending on the situation (but it's about predefined languages).
Chatbots can process any number of requests at the same time and thus serve several customers.
Chatbots allow service employees to process more complex inquiries.
Expand Opportunities In Marketing
Chatbots automate certain steps in marketing: they send notifications about new products or services, offer a product or service at the right time during a conversation that could be useful to customers (cross-selling of products and services).
Chatbots remind customers of other useful functions in the app, inform them about current promo codes, etc.
Understand The Target Audience Better
Chatbots collect the necessary information about customers during the conversation.
Why You Should Not Use Chatbots Everywhere
Although chatbot technology has made tremendous advances in the past few years, challenges must be considered.
Unsuitable Use Cases
Don't use chatbots to process complaints or solve complex problems. This path can result in you receiving frustrated customers, which can also have a negative impact on your company's reputation.
Older generations may be suspicious of or unwilling to use a virtual assistant.
Limited Possibilities In Understanding
Chatbots (even AI-based ones) can recognize a limited number of requests. Not to mention identification regarding typing or spelling errors, ambiguous statements, unspecific questions, or implicit requirements.
Problems from a technical point of view.
Chatbots can still be slow to respond. The right architecture (mostly cloud-based) can help process any amount of data and provide support in temporary peak loads.
Chatbots are subject to privacy concerns because most chatbot platforms are controlled by large companies like Google, Amazon, Facebook, and Microsoft to collect user information.
Tips For Successful Chatbot Development And Implementation
Certain platforms such as Amazon Lex, Azure Bot Service, Dialogflow, and Botpress are used for chatbot development. They make it possible to create a chatbot even without programming knowledge. However, the professional team in app development can ensure more complex functionality through integration into existing back-end systems (self-service software, accounting software, etc.).
If you want to build an efficient chatbot with minimal risk and at a reasonable cost, we look forward to introducing you to our established approach to chatbot development. Below, we would like to share some tips for the successful implementation of your chatbot initiative.
Take An Iterative Approach
When the chatbot development is gradual, it becomes possible to delegate the simplest tasks to your virtual assistant and add more complex functions. This enables you to save time and effort and increase the return on investment (ROI).
Make Sure You Have A Well-designed Architecture In Advance
Our experience in software development shows that even if you are starting small, it is crucial to specify the appropriate requirements for the chatbot architecture from a technical point of view. This will make it possible to expand your chatbot with additional functions in the future.
Add Deep Learning And Natural Language Processing (NLP)
Deep learning and NLP help improve chatbot learning skills and understand the intent in communication by identifying recurring records and learning new sentences in the process. The chatbots of this kind are taught to have a dialogue that is very similar to human dialogue.
Delegate More Complex Tasks To Your Chatbot
Advanced chatbots can answer not only general, predefined questions but also provide other relevant information (account, flight, tariff plan, order, payment) about each customer, which a chatbot can extract from other systems. For this purpose, a chatbot should offer flexible integration options into various already existing systems.
Keep A Chatbot And Its Power Under Control
You can let your chatbot perform various tasks - book appointments, order food, buy goods, or transfer money. But make sure that a real employee can take over communication at all times. We would particularly recommend this when it comes to the management of payments, confidential information, or the inadequate handling of inquiries by the chatbot. A good mix of virtual and real assistants can go a long way towards increasing customer satisfaction and improving the customer experience. Hyperlink Infosystem can assist you with the development of excellent chatbots.