Clone app development involves replicating successful apps and tailoring them to meet your specific needs, saving time and costs while leveraging proven concepts.
In this concise guide, we'll showcase
innovative app ideas
ranging from social networking and on-demand services to e-commerce marketplaces and fitness trackers.
Each idea comes with real-world examples to inspire and guide you.
Discover how these clone app ideas can propel your business forward and open doors to new opportunities in the digital landscape. Let's dive in!
Top Clone App Development Ideas for Your Business
1) Social networking apps
Imagine developing an app specifically for a target market or niches, like
SoundCloud app
for music fans or LinkedIn for professionals.
You can build a dynamic online community where like-minded people can interact, communicate, and share their enthusiasm thanks to this paradigm-shifting idea.
You may capture people and provide them with a dedicated platform to network, exhibit their abilities, and create lasting connections by copying the effective aspects of major social networks and tailoring them for your specialty.
Let your cloned app transform how people communicate and interact in their specific industry.
2) On-Demand Services
Picture creating an app that provides convenient on-demand services like home cleaning (think Handy) or seamless food delivery (akin to Uber Eats).
By replicating the successful models of established on-demand service apps and customizing them for your target market, you can offer users quick access to essential services at their fingertips.
3) E-commerce Marketplace
With this ingenious concept, you can create an app that empowers individuals and businesses to effortlessly buy and sell products, inspired by the success of renowned platforms like Etsy.
By replicating the proven features of established e-commerce platforms and tailoring them to your unique vision, you can provide a seamless and secure marketplace experience for users.
Unlock the potential of online entrepreneurship, connecting buyers and sellers in a vibrant ecosystem that fosters growth, creativity, and unparalleled shopping experiences.
4) Ride-Sharing Platform
Differentiate your platform by offering tailored services for specific regions or user groups, setting yourself apart in the competitive market.
Imagine providing convenient and reliable transportation solutions, connecting riders with drivers seamlessly and efficiently.
With your unique ride-sharing app, you can revolutionize the way people travel, ensuring their journeys are personalized, safe, and enjoyable.
5) Food Delivery Aggregator
Picture creating an app that revolutionizes the food delivery experience, much like the popular platforms Grubhub and DoorDash. Our app will aggregate food delivery options from a myriad of restaurants, providing users with a seamless ordering process and a wide variety of culinary delights at their fingertips.
Imagine the convenience of exploring diverse menus, comparing prices, and effortlessly placing orders for delivery.
With your food delivery aggregator app, you can elevate the dining experience for users, connecting them with their favorite restaurants and cuisines, all in one place.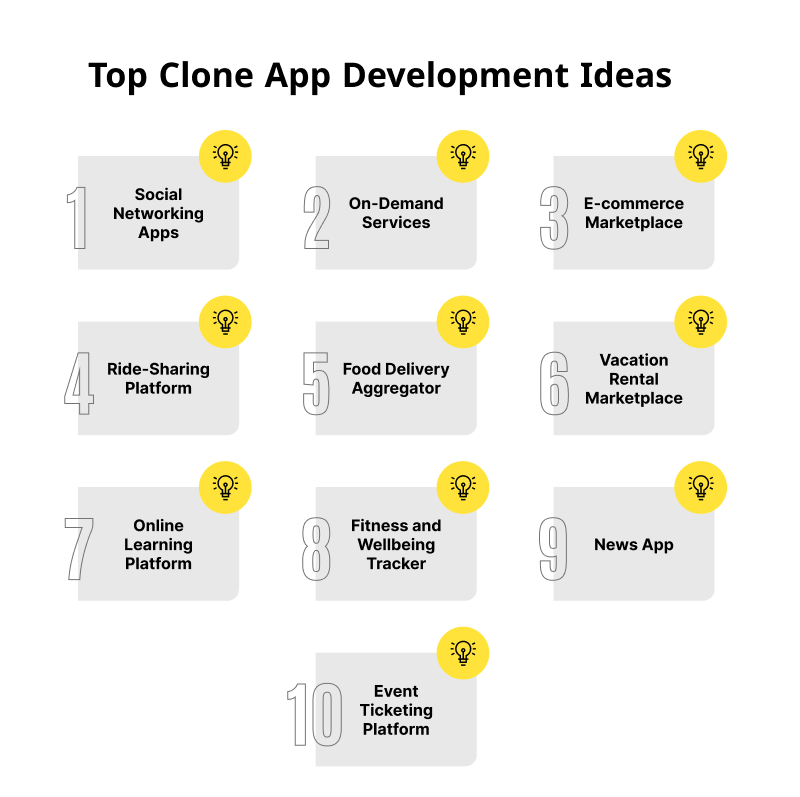 6) Vacation Rental Marketplace
Embark on a digital adventure by building an exceptional vacation rental marketplace app, inspired by the success of Airbnb.
Imagine connecting travelers with local hosts offering unique accommodations tailored to their preferences. Whether it's a cozy cabin, a beachfront villa, or a trendy city apartment, your app will unlock a world of unforgettable travel experiences.
Empower travelers to find their perfect home away from home, while enabling hosts to showcase their properties to a global audience.
With your vacation rental marketplace app, you can redefine the way people explore and immerse themselves in new destinations, creating lifelong memories along the way.
7) Online Learning Platform
To bring about a revolution in education, develop a cutting-edge online learning platform that draws inspiration from sites like Coursera and Udemy.
To aid students in enhancing their knowledge and abilities, offer a choice of programs, study tools, and interactive teaching methods.
Imagine offering a venue where professionals from many industries may impart their knowledge through interesting video courses, tests, and assignments.
Your app will develop into a doorway to countless learning possibilities that are available whenever and whenever.
Join the digital learning movement and give students around the world a revolutionary online learning experience.
8) Fitness and Wellbeing Tracker
Build a comprehensive fitness and well-being monitoring app that revolutionizes the health and wellness sector, drawing on the success of
Fitbit
and
MyFitnessPal
.
Enables users to easily measure health parameters, keep track of their fitness activities, and obtain custom training regimens.
Consider providing user-friendly interfaces for functions like step monitoring, calorie counting, sleep analysis, and goal setting. Your app will establish itself as a dependable friend, encouraging users to adopt healthier habits and reach their fitness objectives.
Recognize how technology can improve people's lives and motivate them to put their health first.
9) News App
With your cutting-edge news aggregator app, which is akin to the renowned platform Flipboard, delve into the realm of news curation.
Your app will compile news stories and updates from a variety of dependable sources and provide personalized suggestions based on the preferences of each user.
Imagine a smooth surfing experience that allows users to discover new topics, save favorite articles, and keep up with the newest news.
By giving consumers a single point of access to trustworthy information in a world that is getting faster and faster, your app will enable users to access the news that matters to them.
10) Event Ticketing Platform
Create an immersive event ticketing tool that is modeled after websites like Ticketmaster and Eventbrite to elevate the event experience.
Users can look for and purchase tickets for a variety of events, including concerts, sporting events, and theatrical plays, using an easy-to-use interface.
Conclusion
In conclusion, the world of clone app development presents a plethora of game-changing opportunities for businesses.
By leveraging successful app concepts and tailoring them to your specific needs, you can unlock immense potential and propel your business to new heights.
Whether you're aiming to revolutionize social networking, on-demand services, e-commerce marketplaces, or other innovative ideas, the key lies in hiring skilled and dedicated app developers.
Collaborating with a top mobile app development company or assembling a dedicated team of developers will ensure the successful execution of your clone app project.
So, seize this moment to explore the endless possibilities, tap into the expertise of top app development companies, and embark on a journey of mobile app development that will shape the future of your business.