The tourism and hospitality industry is one of the most widespread industries these days. The worldwide revenue of this industry is in trillions of dollars as per sources. Everyone loves traveling, and what they love the most is a simple and convenient way to make a booking and search for information about a place. Most people used to visit travel agents and still do, but the ratio has declined due to the straightforward booking process over the internet.
Speaking of the internet, mobile apps by app development companies have surged the travel market with the easy booking process. Besides booking, it has many things to offer, such as checking their flights, looking for great deals, the check-in process, searching the best route in a new city, looking for the points of attraction, etc. However, most travel agents don't do apps; you can stand apart by offering one.
Mobile apps are used a lot by tourists, and they need them even more in places with poor internet connection. There are tons of apps out there, such as Airbnb, Booking.com, Expedia, Google Maps, etc., used by billions of users. There is a high possibility that your target user already has over 2-3 travel apps installed on their smartphone. Hence, you must definitely offer something unique to make them download yours.
Monetization Models For Travel Apps
Of course, you aim to earn money out of your app, and below are some popular revenue models that you should consider for your app.
1. Ads
This is one of the most popular revenue models used by most apps. This model is used by online travel agents, booking apps, and marketplaces. Here, the revenue is generated with the cost per click method. Several hotels and traveling services display their ads in the form of web pages or posts in the apps, and the app will make money when you access these pages to find the most cost-effective options for your holidays.
2. Peer-to-Peer Revenue Model
The P2P model is for those app owners that build a sharing economy by bridging the gap between the buyers & sellers. For example, apps like Homestay and Airbnb earn revenue from property owners and guests. These apps provide users to dwell in their homes for a longer time at an affordable rate.
3. Partnership Model
The partnership revenue model is used when online travel agents and travel platforms commence business. Many traveling apps like Make My Trip usually partner with all these apps and render more precise information to their users.
4. Meta-search Model
This revenue model is used in travel agencies and booking apps. These apps render live information about prices, hotel descriptions, reviews, and a lot more. These apps can also compare prices of the same hotels on several booking sites for users to plan their holiday at the best possible rate.
Key Features Of Travel Booking Apps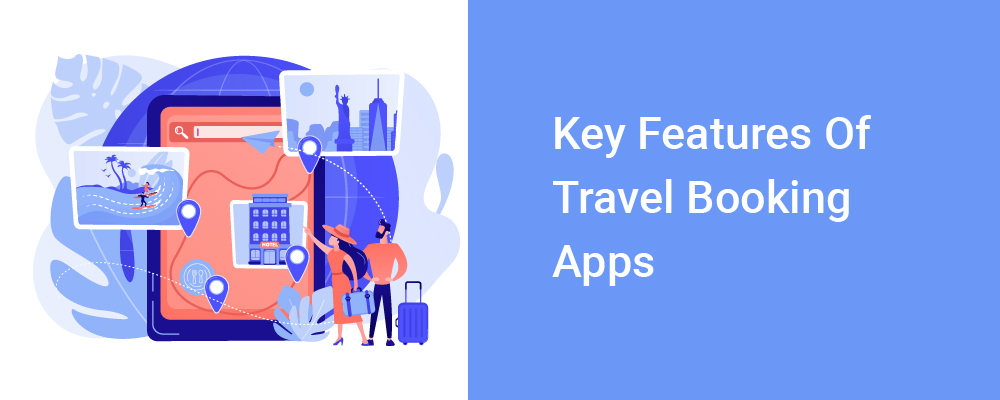 1. Registration
It is essential these days to have social media integration in your apps for users to log in or sign up via social media accounts (Facebook or Google). This allows them to log in quickly, without wasting their time, which provides them a good user experience.
2. User Profile
This one is about managing user information such as birthday, name, contact, email, and travel preferences. Moreover, allow users to update their profile in case of any change.
3. Filter Option
Enable your users to find their dream destination as fast as possible with a search filter option to let them filter by date, transport type, destination, ratings, etc., for the most effective search.
4. Detailed Description
This feature helps users gain more information about the destination. Suppose they are searching for a hotel, make sure you cover all the details about the property like photos, address, prices, availability, description, categories, policies, etc. More information helps users think clearly about their trip and delivers an incredible user experience.
5. Payment Gateway
Facilitate users multiple payment options suitable to them and include PayPal, Stripe, Google Pay, net banking, etc.
6. Online Check-in
Facilitate users to check-in for a flight from your mobile app to avoid them waiting in the long queues.
7. Push Notifications
This is another most essential feature that boosts your app's retention rate. Imagine they do not use your app, but suddenly a pop-up appears on their phone saying, "Book a flight and get a 25% discount on all domestic flights." Well, that's an attractive offer you cannot ignore. That will compel them into using your app, at least.
8. Loyalty Program
This feature can include miles, points, or any foreign currency your user can earn and spend during a trip on flights or car rentals.
9, Feedback
The rating and review feature will allow users to give feedback on any service used on your app. Moreover, only users who booked the hotel earlier will be able to review to maintain the authenticity of the feedback.
The Cost Estimates Of A Travel Booking App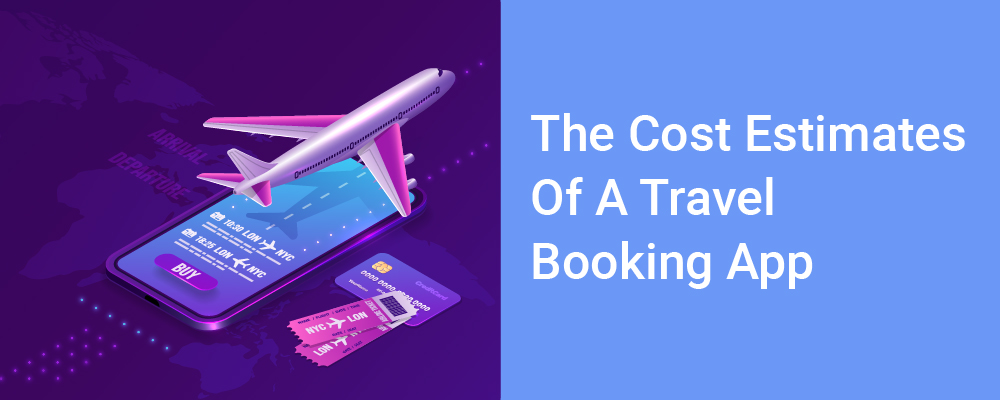 The app development cost for travel apps depends on a number of factors, such as location, complexity, features, platform, UI/UX design, etc.
The region plays a significant role in travel app development costs. For example, the app that could cost you $10,000 in India would cost you more than $30,000 in North America.
Therefore, there are a lot of factors to consider while determining the cost of your app, and it would be impractical to give you the exact cost of your app unless we know your exact requirements. But, we can still give you a rough cost estimate of the app; it can be around $25,000 to $50,000, depending upon your needs.
Conclusion
The tourism and hospitality market is always going to boom. Despite the unfortunate circumstances today, it will continue to rise in the future. Therefore, if you have a unique idea for your app business, you should indeed implement it. The right app development company will help you execute your app idea flawlessly and become a success. Get in touch with our team and share your ideas to help you turn your dream into reality.