In the ever-evolving realm of Android app development, practical projects stand as veritable crucibles for honing technical acumen and fostering effective learning paradigms. This introductory foray into the world of Android project ideation underscores their paramount significance within the developer's toolkit.
Android app development is a multifaceted discipline, replete with intricacies and nuances that transcend the boundaries of theoretical knowledge. It is within the crucible of real-world projects that fledgling developers are afforded the opportunity to concretize their theoretical foundation into practical application.
The merits of practical projects are manifold.
They serve as repositories of hands-on experiences, enabling developers to wield tools, frameworks, and APIs with dexterity. Moreover, the act of translating abstract concepts into tangible solutions cultivates problem-solving prowess and the ability to navigate complex development landscapes.
These projects are not mere exercises in coding; they encapsulate the essence of software engineering. Developers are confronted with real-world challenges, be it designing an intuitive user interface, optimizing app performance, or ensuring data security. The process of conceptualizing, planning, implementing, testing, and refining a project encapsulates the holistic journey of app development.
In summation, practical projects are the crucible wherein theory is transmuted into practice, and novices evolve into adept Android artisans. These projects are the bridge that spans the chasm between theoretical knowledge and practical competence, forging
skilled android developers
capable of crafting innovative and impactful Android applications.
Top 5 Android Project App Ideas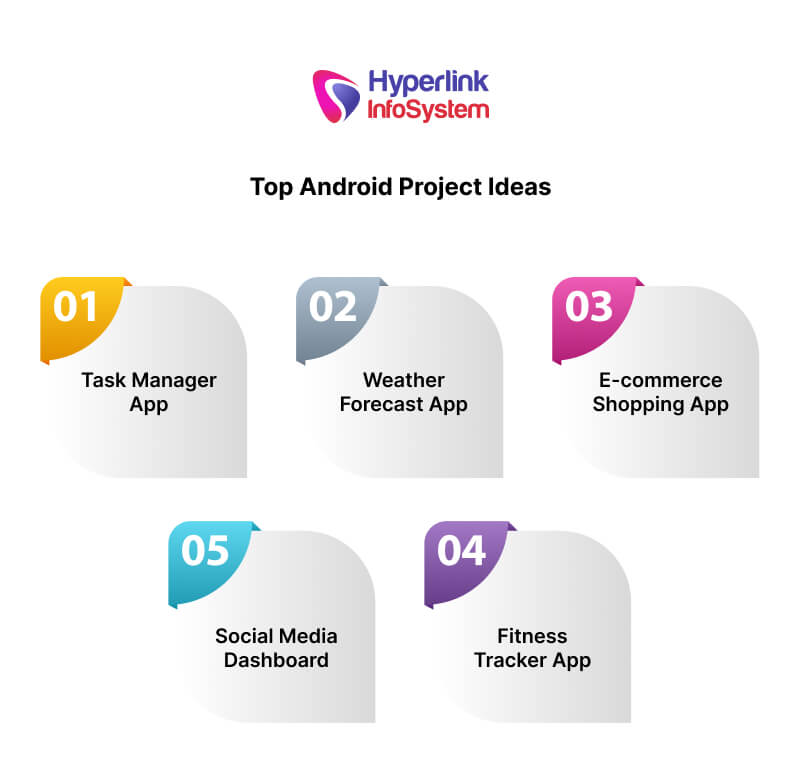 1) Task Manager App
Project Description: A Task Manager App project involves creating a mobile application that allows users to efficiently manage their tasks and to-do lists. It encompasses features such as task creation, editing, and deletion, ensuring users can easily organize and prioritize their tasks.
Features: Key functionalities include the ability to add tasks with titles, descriptions, deadlines, and priority levels.
UI Design and User Experience: A well-thought-out user interface (UI) design is vital for a task manager app. Considerations include an intuitive task list layout, easy-to-use task creation forms, and color-coded priorities. The user experience should be seamless and user-friendly to ensure efficient task management.
Technologies and Tools: Developing a Task Manager App typically involves technologies such as Java or Kotlin for Android development or Swift for iOS development. Integrated Development Environments (IDEs) like Android Studio or Xcode are commonly used. You may also leverage database systems like SQLite to store task data securely.
2) Weather Forecast App
Introduction:
A
Weather Forecast App
project revolves around creating an application that provides users with up-to-date weather information. It should offer current weather conditions, extended forecasts, and potential weather maps, allowing users to plan their activities accordingly.
Integration of Weather APIs: To fetch real-time weather data, you'll need to integrate weather APIs like OpenWeatherMap or Weather API. These APIs provide access to a wealth of weather-related information, including current conditions, forecasts, and historical weather data.
Building a Responsive UI: Crafting a responsive and visually appealing UI is essential for a Weather Forecast App. Users should be able to easily navigate between different weather metrics and access forecasts for various locations. Consider incorporating interactive weather maps with zoom and pan functionality.
3) Ecommerce Shopping App
Project Description:
The
Ecommerce Shopping App
project involves creating a mobile application for online shopping. It encompasses features like product listings, shopping cart management, user profiles, and a secure payment gateway for seamless online transactions.
Features: Key features include displaying products with details, prices, and images, allowing users to add items to a shopping cart, managing the cart, and initiating secure payment processes. User profiles should store information like order history, delivery addresses, and payment methods.
Secure Payment Gateways: Implementing secure payment gateways, such as PayPal, Stripe, or Square, is crucial to protect user financial information. Ensure adherence to Payment Card Industry Data Security Standard (PCI DSS) compliance for secure transactions.
User-Friendly Shopping Experience: Designing a user-friendly interface is vital. Consider factors like intuitive product categorization, search functionality, easy checkout processes, and clear product images. Efficient filtering and sorting options can enhance the shopping experience.
Technologies and Tools: Developing an E-commerce Shopping App often involves languages like Java, Kotlin (Android), or Swift (iOS). Utilize integrated development environments (IDEs) like Android Studio or Xcode.
4) Social Media Dashboard
API Integration: You'll need to integrate APIs provided by social networks to fetch user feeds, posts, interactions, and other relevant data. Implement authentication mechanisms to securely connect users' social media accounts.
Displaying Social Data: The app should display user feeds, posts, notifications, and direct messages from different social networks. Consider features like scheduled posting, real-time updates, and analytics to enhance social media management.
User Authentication and Security: Ensuring user authentication and security is paramount. Implement OAuth or similar authentication methods to securely connect social media accounts. Additionally, safeguard user data and privacy in compliance with each social network's policies.
Technologies and Tools: Developing a Social Media Dashboard typically involves languages like JavaScript (for web-based dashboards) or Java/Kotlin (for mobile apps). Employ libraries or SDKs provided by social networks for API integration. Use frameworks like React for web-based dashboards.
5) Fitness Tracker App
Introduction:
A
Fitness Tracker App
project focuses on developing an application that helps users monitor their physical activities, including steps, calories burned, and workouts. It aims to promote a healthy lifestyle.
Activity Monitoring: The app should use device sensors and GPS to monitor user activities accurately. Track steps, distance, calories, heart rate, and sleep patterns. Implement features like workout tracking, GPS route mapping, and sleep analysis.
Data Visualization: Create data visualizations to help users understand their fitness progress.
Device Sensors and GPS: Utilize device sensors like accelerometers and gyroscopes to detect motion and orientation changes. GPS integration enables accurate tracking of outdoor activities like running or cycling.
Technologies and Tools: Developing a Fitness Tracker App may require languages like Java, Kotlin (Android), or Swift (iOS).
Conclusion
In the dynamic world of Android app development, the pursuit of practical projects stands as an indispensable milestone. These projects are not mere exercises but invaluable stepping stones toward mastering the craft of app creation. As we conclude this exploration into the realm of top Android project ideas, we're reminded of the transformative power of hands-on experience in this ever-evolving ecosystem.
Practical projects breathe life into theoretical knowledge. They bridge the gap between learning and application, transforming novices into proficient developers. By delving into task manager apps, weather forecast applications, e-commerce shopping platforms, social media dashboards, and fitness tracker apps, developers can gain invaluable insights into the multifaceted dimensions of Android app development.
For those seeking to harness the full potential of Android app development, partnering with an esteemed
Android app development company
or choosing to hire skilled Android app developers becomes a strategic imperative. These experts possess not only technical proficiency but also a keen understanding of the Android ecosystem's intricacies.
In the competitive landscape of mobile app development, the decision to embark on practical projects signifies a commitment to innovation, quality, and user-centric design. The amalgamation of theoretical knowledge and hands-on experience is the crucible in which great Android app developers are forged. Thus, as the digital realm evolves, remember that Android app development companies and professionals are the catalysts for turning visionary ideas into user-friendly, feature-rich, and cutting-edge Android applications.