Language learning mobile apps have been booming in the market for so long now. It is helping the students to learn new languages that open doors to the world wide universities for the further studies, helping travelers to explore better and business to expand their services for the worldwide audience. According to the reports, revenue in the language learning sector increased 33% to $6.18 billion in 2020.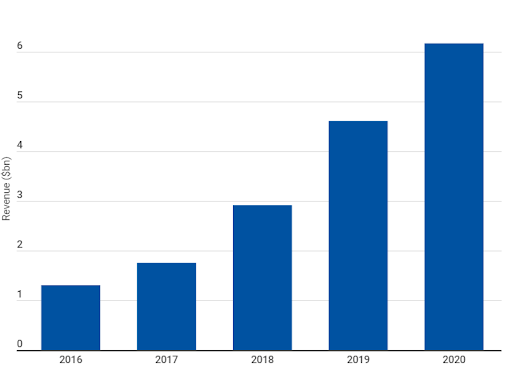 Out of all the language learning mobile apps, Duolingo has shown the highest growth. But do you know how Duolingo is winning the race? Duolingo is offering all the services that any language learning person will need and that too at a pocket-friendly price. It also offers free exclusive features for the students. If you want to develop a Language learning mobile app you should offer something exclusive that can help your mobile app stand out from the competition.
Your mobile app should offer training exercises that have the highest number of lessons allowing users to learn new words, through reading, writing, listening and even translating them. Along with that, you can also offer the video content in the form of music, movies or a part of a trending web series with a subtitle that can improve the communication skills of the users. You can offer e-books that have useful tips that can help the users to improve their reading ability for specific languages. Along with that, you should offer chatbot support that can help the users whenever they need it. Chatbots not only help the existing users but it also helps to attract new users as they have trust there is someone they can count on whenever they will need.
As we are aware, any mobile application needs basic Sign-in, sign-out, profile creation functionality. Even if you are not aware of the basic functionalities, your mobile app development companies do. They can guide you about that. So, let's talk about How you should develop a Language Learning Mobile app like Duolingo and what features you should add to stay ahead of the competition.
How To Develop A Language Learning App Like Duolingo
Various Learning Formats:
Allow your users to choose their own learning format. No matter what language they choose, allow them to choose their learning format from video, audio, text, pictures and so on. Your mobile app should provide various learning content based on their stages such as Pre-Production, Early Production, Speech Emergence, Intermediate Fluency and Advance Fluency.
Social Media Integration:
This feature will allow users to share their achieved milestones on social media platforms as well as to their loved ones, friends and family through various chat-based mobile apps. Along with that, it will allow you to get all the needed information (Name, gender, location, age, etc) about the users directly through social media without much effort.
Gaming Session:
Traditional learning can be boring sometimes. You can end up losing the users so your mobile app should have a gaming feature. Add some of the interactive mobile games such as crossword puzzles and so on that can help the users to learn in innovative ways and also can have fun while at it. You can allow your users to achieve various milestones while playing as well such as unlocking the other levels or earning points and so on that can encourage them to stay connected to your educational mobile app.
Exclusive UI/UX:
Your educational mobile app should fulfill its purpose of providing an enriching learning experience. Ask your Mobile app development company to provide a user-friendly, clean and interactive mobile app design that allows users to navigate through the app easily. So, hire mobile app developers that can provide a mobile app design keeping the user experience in the center.
Operating Systems:
Your mobile app development should be compatible with both Android and iOS. But it can increase your development cost. So, you can do the market research and should prefer to go for one of the OS and work on it. As you can spend the earnings afterward for the remaining OS. It is more effective than compromising on the in-app features.
Language Proficiency:
Allow your users to choose their own language proficiency level at the time of the sign-up process. The users can take a test to verify and figure out which level is the most suitable for them to go ahead.
Learning Dashboard:
The dashboard should reflect the various information such as users' daily target, achieved target, the level they are at, their achievements and so on where they can monitor their own progress. The learning Dashboard should also reflect where users rank worldwide or the friends they have challenged through your mobile. It can encourage the users to rank better and learn more to achieve the desired ranking.
Achievements:
Your mobile app should have various achievements that users can achieve while learning. Allow your users to set the daily streaks that they should achieve daily to earn significant points and users should be able to modify their goals too. You can set the different reward points based on the users' proficiency levels which they can achieve through the learning content as well as playing the games.
Punishments:
The Duolingo feature that interests the users the most is the health feature of the mobile app. It is obvious to make mistakes while learning something new right? but on the virtual platform, there is no one to guide you to correct them and Duliongo changed that. Duolingo has a feature called health which keeps track of the user's learning session and on every mistake, it turns into a weakness. If the health score reaches zero the users can not continue, they first have to work on their mistakes. You can include a lookalike feature in your mobile application that keeps a record of the user's mistake. Your mobile app should give some punishments for repetitive mistakes.
Clubs & Communities:
The club and communities feature should allow users to form and join the clubs based on their language preferences. It allows users to engage with other users globally. It will improve their communication skills and achieve their desired goals efficiently.
Conclusion
You have no idea which language your users will need to learn and how to broaden your target audience group. So, you should hire mobile app developers from the Top app development companies as they know what security t features they should take care of throughout the language learning app development process.
Also Read:
How To Build A Marketplace App Like Amazon?
How Much Does It Cost To Create An App Like MeWe?
How To Create A Music Identification Mobile App Like Shazam?
How To Create A Useful Car Rental App Like Turo?
How To Build A Soul-Nourishing Bible App Like Spark Bible?
How To Build An Innovative eLearning App Like Udemy